What's Next: Space Ticket Information

7 STEPS TO SUBORBITAL SPACE
Ready to take off? Get your ticket into Space.
STEP 1 Reserve your seat now and join around 600 Virgin Galactic astronauts who will venture into space. If you are interested in discussing your reservation with me, please fill in the Contact Us form and I will be in touch as soon as possible to answer any questions you may have. I cover Western and Central NY, Ohio, Western Pennsylvania and Ontario, Canada. I have been specially selected and trained to handle all the aspects of your spaceflight reservation. I am looking forward to hearing from you.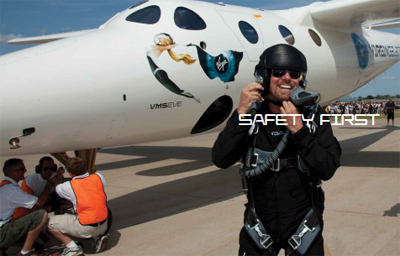 STEP 2 Once you have made your space reservations bask in benefits and bragging rights. Fewer than 500 people have ever gone into space to date, so you'll be joining lofty ranks regardless of seat assignment. Once you've been confirmed, you'll receive a welcome pack, gift, and insider updates, including invitations to events (such as the recent spaceship unveiling in December).
STEP 3 Be patient. This is not a race, says Burt Rutan, founder of the aerospace company Scaled Composites, which Branson tapped to build Virgin Galactic's mother ships and spaceships. Commercial flights will not commence until rigorous safety checks and test flights (and, of course, U.S. regulatory approval) have been met. Such test flights are set to begin in the first quarter of this year, and if all goes well, commercial flights may begin by 2014.
STEP 4 Participate in preflight training. Though there's no age limit (the oldest customer is 84), passengers must undergo medical exams to assess their fitness to fly. At the three-day astronaut experience at Spaceport America in New Mexico, you'll be issued a Philippe Starck-designed space suit, undergo g-force and possibly weightlessness training, and learn more about your mission.
STEP 5 Prepare for takeoff. While friends and family await your return in the spaceport's lounge, you'll board the sleek spaceship with five fellow passengers and two pilots. Don't worry – every seat has a window view. The spaceship is berthed to the Eve, the mother ship (named for Branson's mother), a twin-boom jet airplane made of 100 percent carbon composite material. After takeoff you'll fly to 50,000 feet and hear a countdown. When the spaceship releases and its hybrid rocket motor fires up, it will accelerate into a vertical climb; in ten seconds you'll reach Mach 1 (the speed of sound) and in 30 seconds you'll be at Mach 3.4 – literally faster than a speeding bullet. After 90 seconds' the pilots will cut the motor and the spaceship will continue to climb to its peak altitude of 360,000 feet – 68 miles above Earth.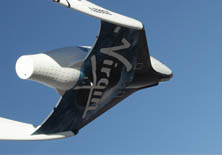 STEP 6 Enjoy the view. Six miles above the space border, you'll experience total silence – and zero g, floating weightlessly throughout the cabin for the next four to five minutes. Through the windows, look back at Earth and see our planet's curvature meeting the total blackness of space. Astronauts report humbling awe and a sense of responsibility as they comprehend the frailty of the thin blue line that is our atmosphere and the magnitude of our universe.
STEP 7 Return to your seats – and an entirely new perspective. Pointing back toward Earth, the spaceship embarks on a thrilling 90- second reentry, peaking at nearly 6 gs. The spaceship's wings, which have been neatly "feathered" up throughout the flight, will rotate back to their usual position to glide you safely back to Earth to collect your astronaut wings. One thing is quite certain: You will exit that spacecraft achanged person.
For More Information Please Contact:
CRAIG CURRAN , ASA
Galactic Experiences By DePrez, DePrez Travel Bureau, Inc.
585-442-8900 X224