YOUR SPACE SUITS HAVE BEEN REVEALED!
The World's First Exclusive Spacewear System For Private Astronauts ​
Dancing in weightlessness. The world's first exclusive spacewear system for private astronauts, designed by Under Armour in collaboration with Virgin Galactic.
There is much to say about the space suit and accompanying apparel, which includes the base layer, footwear, training suit and Limited Edition astronaut jacket. We gave Under Armour an exciting, if challenging brief, and they were well placed to respond. Innovation is at the core of everything they do, and the resulting space flight system utilises both existing and new Under Armour technologies that demonstrates why they are leaders in human performance. It was a collaborative effort to ensure we fully understood and addressed all requirements, and inputs were gathered from our medical team, chief trainer, pilots and engineers as well as all of you.
Comfort is of course key, and informs the fabric choice, structure and fit. Temperature management, for example, is regulated by performance fibres and knit density, mapped to the body to provide perfect warmth and moisture management, while preventing overheating or chilling. Great care has also been taken to ensure the spacewear design is fully woven into cabin design, in particular with the spaceship's seats where integration with harnesses and seat contours ensures comfort, particularly during the high G portions of flight.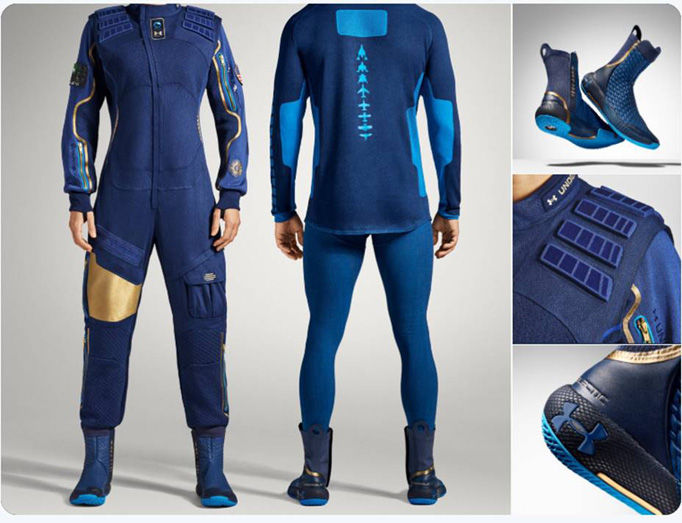 Safety is our North Star and underlined the choice of materials and other key design considerations. The spacesuit is made from lightweight flight-grade fabrics, with cushioning in elbows, knees and in the footwear, to provide safety in out-of-seat zero gravity. The spacesuits are complemented by training suits which will help to optimize the effectiveness of your preparation in the days immediately before spaceflight. The footwear forms to the exact shape of the foot to make it zero distraction, and the advanced technology makes it light but durable. All the spacewear materials have been rigorously tested in laboratory conditions which match the measured environment at all stages of spaceflight.Check out this Under Armour piece to learn more about the individual features of the suit and the technology behind it.

Last but definitely not least are the individual touches that make it stand apart. Your space suit will be personally tailored, so that you are feeling and looking your absolute best for the transformative journey to space. It will be personalised with your name badge and nation flag, which we know is incredibly important to you all, and builds on traditions of the past. There are built in pockets so you can take small personal items, which we know many of you want to do. There is also a transparent inside pocket for photographs of your loved ones, so they will be literally close to your heart. Of course you are flying as an individual but also as a crew, and that will be reflected in a Mission Patch incorporating everyone's irises and signatures.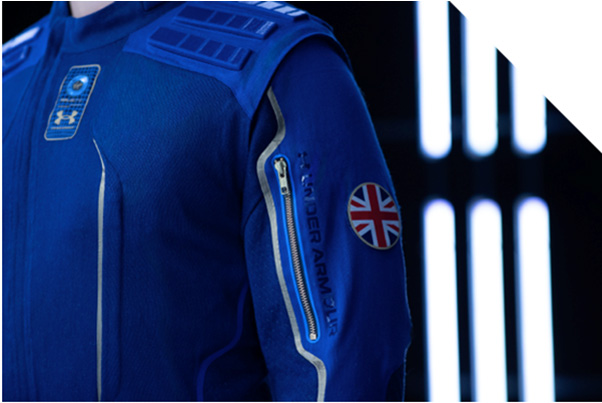 In short, we have put much thought into the suit and we hope you will love it as much as we do. And that you continue to wear it long after you have become Astronauts! We look forward to sharing more with you over the coming months.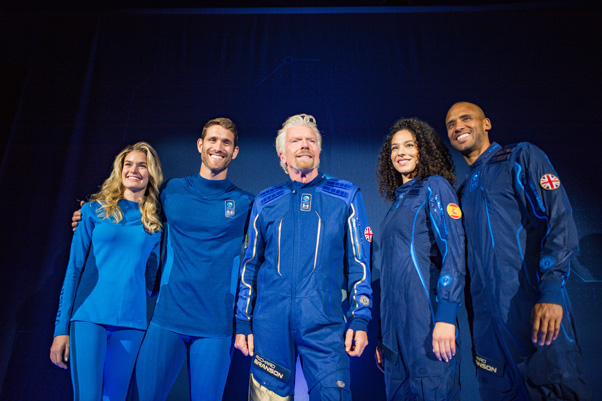 For More Information Please Contact:
CRAIG CURRAN , ASA
Galactic Experiences By DePrez, DePrez Travel Bureau, Inc.
585-442-8900 X224