ZERO G FLIGHTS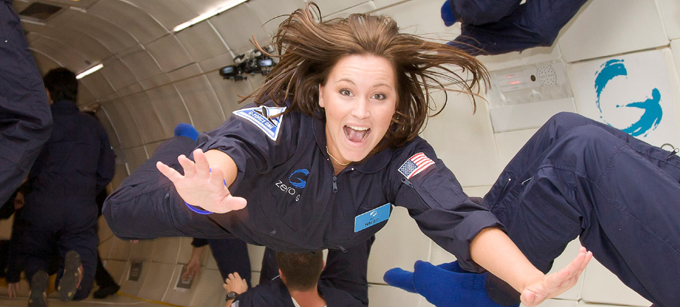 Float like an Astronaut & Fly like a Superhero in Weightlessness.
A ZERO-G Experience is the only one of its kind. When joining a ZERO-G Experience aboard G-FORCE ONE, you will encounter the only commercial opportunity on Earth for individuals to enjoy true weightlessness without going to space. The day of your ZERO-G Experience will last about five hours and includes, 12-15 parabolas, your own ZERO-G flight suit, ZERO-G merchandise, a Regravitation Celebration, certificate of weightless completion, photos and video of your unique experience. A ZERO-G Experience® is available starting at $4,950 per person.
"It was exhilarating. It was great to experience both lunar gravity and weightlessness again. I hope that everyone interested in adventure tourism and space will participate in this amazing opportunity."
- Dr. Buzz Aldrin, Apollo 11 Astronaut

























Atlanta, GA (ATL)
March 21, 2020
Austin, TX (AUS)
April 4, 2020
October 3, 2020
Houston, TX (HOU)
March 28, 2020
June 6, 2020
August 22, 2020
November 7, 2020

LAS VEGAS, NV (LAS)

February 7, 2020
February 8, 2020
April 25, 2020
August 15, 2020
October 31, 2020
LOS ANGELES, CA (LGB)
February 15, 2020
April 18, 20202
June 27, 2020
July 25, 2020
October 24, 2020
MIAMI, FL (FLL)
February 29, 2020
May 23, 2020
August 29, 2020
November 21, 2020
December 5, 2020
MIAMI, FL (FLL)

(Research)

March 17, 2020

Research Flight

March 18, 2020

Research Flight

March 19, 2020

Research Flight

March 20, 2020

Research Flight

November 17, 2020

Research Flight

November 18, 2020

Research Flight

November 19, 2020

Research Flight

November 20, 2020

Research Flight

NEW ENGLAND, NH (PSM)

May 3, 2020

NEW YORK, NY (EWR)

May 9, 2020
September 26, 2020
ORLANDO, FL (SFB)
February 22, 2020
March 14, 2020
May 30, 2020
September 12, 2020
November 14, 2020
November 28, 2020
December 12, 2020

SAN FRANCISCO, CA (SJC)

February 1, 2020
April 11, 2020
June 13, 2020
August 1, 2020
October 17, 2020

SEATTLE, WA (BFI)

June 20, 2020
August 8, 2020
October 10, 2020

WASHINGTON, D.C. (IAD)

May 16, 2020
September 19, 2020




How It Works




Aboard the specially modified Boeing 727, G-FORCE ONE, weightlessness is achieved by doing aerobatic maneuvers known as parabolas. Specially trained pilots perform these aerobatic maneuvers. ZERO-G's passengers experience true weightlessness. In addition to achieving zero gravity, G-FORCE ONE also flies a parabola designed to offer Lunar gravity (1/6 your weight) & Martian gravity (1/3 your weight). This is created by flying a larger arc over the top of the parabola. More Details.




























What to Expect:
Check-In:

When you arrive at the designated ZERO-G Training Facility you will check-in with your government issued picture identification. You will then be introduced to your Team Coach and escorted into the Orientation Room where you can enjoy a light breakfast before orientation begins.

Pre-flight Orientation:

A pre-flight video begins the orientation covering everything you need to know concerning your ZERO-G Experience. After the video you will be broken into teams of Gold, Silver or Blue where you will be able to meet your group and cover additional questions with your Coach.

Security:

After the orientation, all flyers and Coaches will proceed through security screening just like you would at an airport. Please note that carry-on items are limited and must fit in your pocket.

Transportation:

Once screening is complete, all flyers will proceed to the aircraft. Transportation to G-FORCE ONE will differ depending on the location of the flight.

Travel to Fly Zone:

Before boarding, a group picture will be taken in front of G-FORCE ONE. Once everyone is seated, a brief on-board safety demonstration will be given by the Flight Attendants before takeoff. Depending on the approved airspace, it will take about 30 minutes to reach appropriate altitude.

The ZERO-G Experience:

Once the okay is given to unbuckle, all flyers will head to the Gold, Silver or Blue Floating Zone. You are now minutes away from becoming weightless. 12-15 parabolas are flown for an approximate weightless time of eight minutes.

Regravitation Celebration:

After your weightless experience you and your fellow flyers will enjoy the Regravitation Celebration where the pre-flight photos and certificates are handed out and refreshments are provided.






















We Also Charter Groups!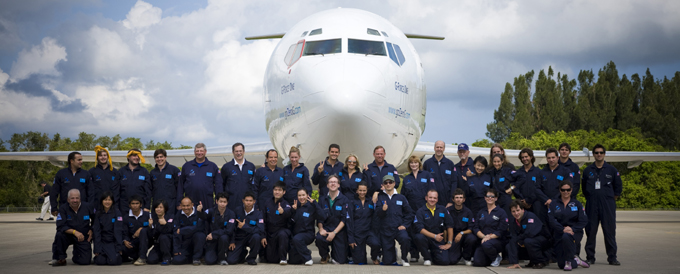 Since ZERO-G's launch in 2004, individuals, groups of family and friends and companies have all chartered ZERO-G for an exciting experience that stands out. The ZERO-G Experience builds memories that last. It is a unique way to express gratitude to important clients and partners or an amazing group activity for your friends and family. With this being a once in a lifetime experience, why not get married in weightlessness? Flights can be rewards, incentives, celebrations and even revenue mechanisms for charitable institutions.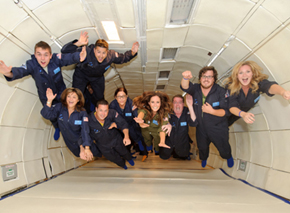 The cost to charter the aircraft for a ZERO-G Experience starts at $165,000 + 5% tax plus Ferry Fees if needed. Charter flights can accommodate up to 36 participants.
In addition to our current scheduled flights, clients who charter a flight can request the locations as long as it can accommodate a Boeing 727-200 aircraft. Additional costs may be associated with relocating G-FORCE ONE from its primary locations.
ZERO-G is a great educational tool. ZERO-G is actively developing programs and partnerships that provide educators, students, and parents with the excitement of a ZERO-G Weightless Experience while incorporating planned demonstrations and advanced research.
"Thank you, thank you, thank you! This was truly a once in a lifetime opportunity - better than any content taught in the college classroom in preparation for a career in science education."
- Carrie Cate-Clements, Educator






















How It Works!

Before starting a parabola, G-FORCE ONE flies level to the horizon at an altitude of 24,000 feet. The pilots then begins to pull up, gradually increasing the angle of the aircraft to about 45° to the horizon reaching an altitude of 34,000 feet. During this pull-up, passengers will feel the pull of 1.8 Gs. Next the plane is "pushed over" to create the zero gravity segment of the parabola. For the next 20-30 seconds everything in the plane is weightless. Next a gentle pull-out is started which allows the flyers to stabilize on the aircraft floor. This maneuver is repeated 12-15 times, each taking about ten miles of airspace to perform.
In addition to achieving zero gravity, G-FORCE ONE also flies a parabola designed to offer Lunar gravity (one sixth your weight) and Martian gravity (one third your weight). This is created by flying a larger arc over the top of the parabola.
G-FORCE ONE flies in a FAA designated airspace that is approximately 100 miles long and ten miles wide. Usually three to five parabolas are flown consecutively with short periods of level flight between each set.
"It was amazing. The zero-g part was wonderful. I could have gone on and on. Space here I come."
- Professor Stephen Hawking, Astrophysicist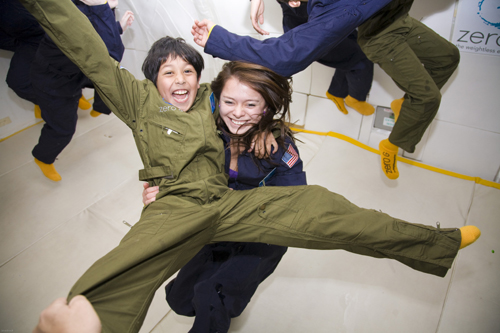 For More Information on this Product Contact:
CRAIG CURRAN, ASA
Galactic Experiences By DePrez
DePrez Travel Bureau, Inc.
585-442-8900 X224