Craig Curran - Certified Agent for Virgin Galactic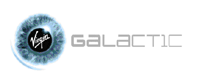 Local Travel Agent Craig Curran of Deprez Travel Bureau, Inc. Selected as Virgin Galactic Accredited Space Agent
Local Travel Advisor Named One of Elite Few to Sell Seats Aboard Sir Richard Branson's Commercial Space Venture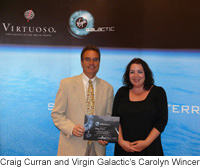 Rochester, NY
(May 6, 2011)  With every day bringing the dream of space travel one step closer to reality, Virgin Galactic has added Craig Curran as an Accredited Space Agents (ASAs) to its existing sales force.  Craig Curran of DePrez Travel Bureau, Inc./Virtuoso, a Virtuoso member agency, has been selected as one of an elite group of travel advisors who are specially trained to sell the most exciting new adventure in travel: suborbital flights aboard Sir Richard Branson's commercial space venture.  Craig Curran joins an existing group of 72 Virtuoso ASAs - the only travel advisors throughout the entire Americas who have this distinction.
Craig Curran is part of a small group who were hand-selected by Virgin Galactic to sell the seats, which go for $200,000 a ticket.  Virtuoso determined its new recruits through a two-step process to ascertain each candidate's potential to sell these one-of-a-kind flights. After submitting an initial online application, Craig Curran submitted a proposal outlining how he planned to produce space sales. Other criteria included a proven track record in selling Virtuoso preferred supplier product, client demographics, market location/penetration, marketing and public relations acumen, and - most importantly - a demonstrated passion for space travel.  Craig Curran recently participated in an intensive Virgin Galactic training session  in  Fort Worth, Texas office, which will allow him to bring this opportunity to existing and prospective clients.
"The advisors who are selected as ASAs have an opportunity to be on the forefront of one of travel's most significant breakthroughs," says Matthew D. Upchurch, CTC, CEO of Virtuoso and Virgin Galactic 'Founder' Passenger.   "Virgin Galactic - an organization with enormous name recognition - has entrusted trusted travel advisors with the sales of its pioneering project.  This recognition raises the bar for all travel advisors by highlighting the value that advisors like Craig Curran provide to their clients.  Virgin Galactic continues to cross major milestones that bring us closer to realizing space travel, and Craig Curran and his future astronaut clients will be part of this historic journey."
Carolyn Wincer, Head of Astronaut Sales for Virgin Galactic, commented, "Adding new ASAs like Craig Curran will prove beneficial for the entire Virgin Galactic program.  Not only does it strengthen the existing ASA program, it builds awareness for the project and brings the opportunity to more future astronauts.  We are confident Craig Curran's participation will be an asset."
Virgin Galactic is the commercial space project currently in development by Sir Richard Branson's Virgin Group.  With its a specially built spacecraft currently undergoing successful test flights, Virgin Galactic leads the way in private space tourism.  Virtuoso's ASAs recently hit the $10 million mark in space travel sales, with demand continuing to build with every milestone reached.
# # #
About DePrez Travel Bureau, Inc.
DePrez Travel Bureau, Inc. is a member of the DePrez Group Of Travel Companies and is the largest independent travel management firm in central and western NY.  Founded in 1929 the group provides extensive and diverse travel services, including cruise sales of Just Cruises, Inc. (atop 50 cruise-only agency in N.A.), meeting and congress planning to fortune 100 companies and large associations, corporate travel management, and luxury travel leisure sales through Whitaker &DePrez Travel Partners LLC.
About Craig Curran
Craig Curran is President of the DePrez Group Of Travel Companies and has been a travel agent for the past 30 years.  He has traveled the globe and directed the growth of the DePrez Group into one of the most diverse and successful independent travel management firms in the United States. Mr. Curran is the Board Chairman of VisitRochester, the convention and visitors bureau for Rochester NY.  He also serves on the Hillside Family of Agencies Board of Governors and resides in Pittsford, NY with his wife Donna Lee and his 2 children.  Mr. Curran has long been fascinated with space and space travel.  He has flown light jets, skydived and is an avid scuba diver.
About Virtuoso
Virtuoso® is the industry's leading luxury travel network.  This by-invitation-only organization comprises over 300 agencies with more than 6,000 elite travel specialists in 22 countries in North and South America, the Caribbean, Australia and New Zealand, as well as over 1,000 of the world's best travel providers and premier destinations.  The network's member agencies generate over $5.1 billion annually in travel sales, making the group the most powerful in the luxury travel segment.  Their relationships with the finest travel companies provide the network's affluent clientele with exclusive amenities, rare experiences and privileged access. Virtuoso is the exclusive network of travel services and benefits provided by MasterCard® for participating World Elite MasterCard® programs. For more information, please visit www.virtuoso.com.  To see Virtuoso's latest video content, visit http://www.youtube.com/user/VirtuosoTraveler.
Craig Curran 
DePrez Travel Bureau, Inc.    
585-442-8900 x224 / Cell: 585-721-9641  
Email: