FAA OK'S VIRGIN GALACTIC TO LAUNCH CUSTOMERS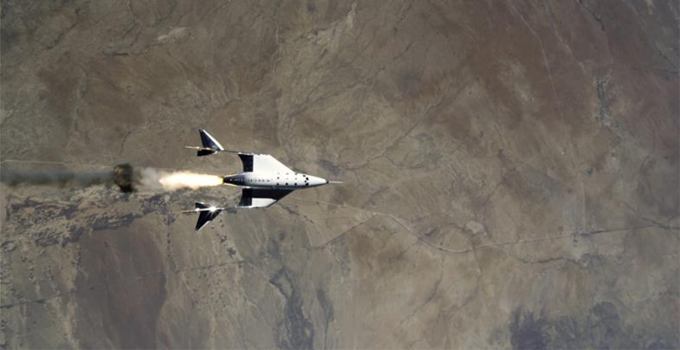 CAPE CANAVERAL, FL - June 25, 2021 - Virgin Galactic finally has the federal government's approval to start launching customers into space from New Mexico.
Richard Branson's rocketship company announced the Federal Aviation Administration's updated license on Friday. It's the final hurdle in Virgin Galactic's yearslong effort to send paying passengers on short space hops.
The company is working toward three more space test flights this summer and early fall, before opening the rocketship's doors to paying customers. The original plans called for company engineers to launch next to evaluate equipment, followed by a flight with Branson and then a science mission by Italian Air Force officers.
In the meantime, Blue Origin's Jeff Bezos earlier this month announced plans to ride his own rocket into space July 20 from Texas.
Virgin Galactic officials acknowledged the growing chatter over whether Branson will try to beat Bezos into space. "Clearly, Sir Richard Branson's flight date has been subject to speculation for some time. At this time we do not have any further details on the upcoming flight dates," company spokeswoman Aleanna Crane wrote in an email.
Unlike Blue Origin's and SpaceX's fully automated capsules launched from the ground by reusable rockets, Virgin Galactic uses a winged spacecraft that launches from the belly of an airplane and requires a pair of pilots. It's reached space three times since 2018. The second trip carried a third company employee.
A review of the company's third flight to space in May — which reached an altitude of 55 miles (89 kilometers) — showed everything went well and paved the way for the necessary FAA permission.
"Today's approval by the FAA of our full commercial launch license, in conjunction with the success of our May 22 test flight, give us confidence as we proceed toward our first fully crewed test flight this summer," chief executive officer Michael Colglazier said in a statement.
About Galactic Experiences by DePrez
Galactic Experiences by DePrez is a member of the DePrez Group Of Travel Companies, which is the largest independent travel management firm in central and western NY. Founded in 1929, the group provides extensive and diverse travel services, including cruise sales by Just Cruises, Inc. a top 50 cruise-only agency in N.A., meeting and conventions planning to fortune 100 companies and large associations, corporate travel management, and luxury travel leisure sales through Whitaker & DePrez Travel Partners LLC.
About Virgin Galactic Holdings
Virgin Galactic Holdings, Inc. is a vertically integrated aerospace company, pioneering human spaceflight for private individuals and researchers, as well as a manufacturer of advanced air and space vehicles. Using its proprietary and reusable technologies and supported by a distinctive, Virgin-branded customer experience, it is developing a spaceflight system designed to offer customers a unique, multi-day, transformative experience. This culminates in a spaceflight that includes views of Earth from space and several minutes of weightlessness that will launch from Spaceport America, New Mexico. Virgin Galactic and The Spaceship Company believe that one of the most exciting and significant opportunities of our time lies in the commercial exploration of space and the development of technology that will change the way we travel across the globe in the future. Together we are opening access to space to change the world for good.
For More Information Please Contact:
CRAIG CURRAN , ASA
Galactic Experiences By DePrez, DePrez Travel Bureau, Inc.
585-442-8900 X224