DEPREZ TRAVEL AND ROCHESTER MUSEUM & SCIENCE CENTER ANNOUNCE PARTNERSHIP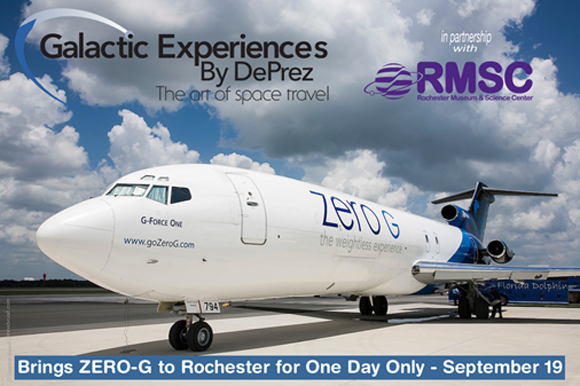 DEPREZ TRAVEL AND ROCHESTER MUSEUM & SCIENCE CENTER ANNOUNCE PARTNERSHIP IN SUPPORT OF STEM EDUCATION
Rochester, NY - July 15, 2021 - DePrez Travel and Rochester Museum & Science Center announce their partnership in support of STEM Education as Galactic Experiences By DePrez a Division of DePrez Travel, brings the ZERO-G weightless experience to Rochester.
Craig Curran, President and CEO of DePrez Travel says, "This just seems like a good fit. The Rochester Museum & Science Center ignites a passion for lifelong learning. It equips the community with the foundational skills, knowledge, and understanding of the technologies needed to help solve our most pressing challenges. One of those challenges is the burgeoning field of Space Travel."
"Bringing exciting, hands-on STEM experiences to our community is one of the things the RMSC does best." said Hillary Olson, President and CEO of RMSC. "This flight is an incredible opportunity for people to have a transformational STEM experience, in a way that hasn't been possible in Rochester before. We are excited to partner with DePrez Travel and to be involved in this unique, once-in-a-lifetime experience."
This ZERO-G flight will allow participants to experience lunar gravity, Martian gravity and zero gravity using parabolic flight. This specially modified Boeing 727 is also used for advanced research, education and training.
Curran says, "ZERO-G and other like-minded space companies are taking the dream of space travel from science fiction to reality. And with programs like STEM Education (science, technology, engineering and mathematics), we will be equipped for the future in space travel."
Consistent with our desire to support STEM Education, Steve Fentress, the Director of the Strasenburgh Planetarium, will be one of the passengers on the ZERO-G flight on September 19 and he says, "I've been teaching people about gravity and weightlessness for years, but now I look forward to being able to describe zero-G from personal experience."
On Sunday, September 19th the specially outfitted Boeing 727, known as G-FORCE ONE®, will make an exclusive appearance at the Frederick Douglass Greater Rochester International Airport. Interested participants can learn more and/or book their space at www.zerognow.com or http://www.depreztravel.com/
About Galactic Experiences by DePrez
Galactic Experiences by DePrez is a member of the DePrez Group Of Travel Companies. Galactic Experiences specializes in the burgeoning field of space tourism, offering such products as astronaut training at the NASTAR centrifuge, suborbital space flights with Virgin Galactic, space balloon flights with Space Perspective, aerial dogfighting, Titanic expeditions and more. For More information, please visit www.galacticexperiencesbydeprez.com.
About Craig Curran
President of the DePrez Group Of Travel Companies, Craig is one of 23 Accredited Space Agents globally and is registered to be a future astronaut. He has been a travel agent for the past 30 years and has traveled the globe. Craig has directed the growth of the DePrez Group into one of the most diverse and successful independent travel management firms in the United States. Mr. Curran is on the board of Visit Rochester, the Convention and Visitors Bureau for Rochester, NY. He also serves on the Hillside Family of Agencies Board and resides in Pittsford, NY. Mr. Curran has long been fascinated with adventure travel, space and space travel. He has flown light jets, skydived and is an avid scuba diver.
About Rochester Museum & Science Center
"The mission of the Rochester Museum & Science Center (RMSC) is to inspire a better future for all through curiosity, exploration, and participation in science, culture, and the natural world. RMSC includes the Science Museum, Strasenburgh Planetarium and Cumming Nature Center. Offering experiences at the Museum with more than 200 interactive exhibits, the Planetarium with a 65-foot dome and the Nature Center on 900 acres, the RMSC stimulates community interest in exploration. For more information about RMSC, visit rmsc.org.
About ZERO-G
Zero Gravity Corporation is a privately held space research and tourism company whose mission is to make the excitement and adventure of space accessible to the public. ZERO-G is the first and only FAA-approved provider of weightless flight in the U.S. for the general public, entertainment and film industries, corporate and incentive markets, non-profit research and education sectors, and the Government. ZERO-G's attention to detail, excellent service and quality of experience combined with its exciting history has set the foundation for the most exhilarating adventure based tourism product available.
For More Information Please Contact:
CRAIG CURRAN , ASA
Galactic Experiences By DePrez, DePrez Travel Bureau, Inc.
585-442-8900 X224