Our Products

Virgin Galactic
The rocket motor has been switched off and it is quiet. But it's not just quiet, it's QUIET. The silence of space is as awe inspiring as was the noise of the rocket just moments earlier. What's really getting your senses screaming now though, is that the gravity which has dominated every movement you've made since the day you were born is not there any more. There is no up and no down and you're out of your seat experiencing the freedom that even your dreams underestimated. After a graceful mid-space summersault you find yourself at a large window and what you see is a view that you've seen in countless images but the reality is so much more beautiful and provokes emotions that are strong but hard to define. The blue map, curving into the black distance is familiar but has none of the usual marked boundaries. The incredibly narrow ribbon of atmosphere looks worryingly fragile. What you are looking at is the source of everything it means to be human, and it is home. More Information

SPACE PERSPECTIVE
Reimagined space travel. Instead of rocketing away from the Earth at high velocity, you ascend on a gentle, yet thrilling journey and look back at our planet from an entirely new perspective. Glide along as the sun slowly rises in a black sky, illuminating the blue ribbon of our atmosphere. Then, Spaceship Neptune smoothly descends to splashdown. More Information

Eyos Expeditions
Whether you own your own yacht or want to charter an extraordinary vessel, EYOS Expeditiond guides you there in safety and luxury. Eyos delivers bespoke once-in-a-lifetime experiences in the most remote regions on Earth. EYOS designs unique experiences using a worldwide network of travel and marine specialists with experience and expertise that leaves virtually none of the globe unknown. More Information

ORION SPAN'S AURORA STATION - SPACE HOTEL
During your 12-day adventure on Aurora Station, you will fly at a height of 200 miles above the Earth's surface in Low Earth Orbit, where where you will witness incredible views of the blue planet. The hotel will orbit Earth every 90 minutes, which means guests will see around 16 sunrises and sunsets every 24 hours. Travelers will complete a three-month Orion Span Astronaut Certification (OSAC) program before take-off. More Information

VISIT THE INTERNATIONAL SPACE STATION
Under an agreement with NASA's Johnson Space Center, Virgin Galactic is developing a new orbital astronaut readiness program for private individuals interested in purchasing missions to the International Space Station. This program builds on Virgin Galactic's commercial spaceflight training experience and position as the world's preeminent space experience brand. It will offer a unique turnkey approach to orbital flight, from the procurement of transportation to the provision of training, all delivered with an unparalleled and proven commitment to personalized customer experience. More Information

INNER SPACE EXPLORATION
OceanGate Expeditions uses manned submersibles to create expeditions at depths far deeper than can be reached with SCUBA. Citizen explorers are invited to join on rare and exclusive expeditions to iconic shipwrecks, hydrothermal vents, deep-sea canyons, and other events around the world. These expeditions, to depths approaching 13,000 feet, provide extraordinary opportunities to directly observe the mysteries of the deep sea. Information on the TITANIC EXPEDITION. Contact us for information on Other Deep Sea Expeditions.

WORLD VIEW ENTERPRISES - BALLOON SYSTEM
World View is radically rethinking access to space. Their remotely controlled Stratollite carries a wide variety of commercial payloads (sensors, telescopes, communications arrays, etc.). It remains aloft for days, weeks, and months on end. This allows for more sustained measurements and monitoring capabilities over an area of interest.The Stratollite launches rapidly and safely on demand and gently returns payloads back to Earth. Also, exciting World View is unlocking affordable new applications and pioneering new perspectives in the development of a Voyager human spaceflight system. More Information

The ZERO-G Experience
The ZERO-G Experience is a once-in-a-lifetime opportunity to experience true weightlessness without travel to space. On a specially modified Boeing 727, parabolic arcs are performed to create a weightless environment allowing you to float, flip and soar as if you were in space.  Your ZERO-G Experience includes 12-15 parabolas, your own ZERO-G flight suit, ZERO-G merchandise, a Regravitation Celebration, certificate of weightless completion, photos and video of your unique experience and more. Dates & Locations

BLUE ORIGIN - NEW SHEPARD
Blue Origin believes that in order to preserve Earth, for our grandchildren's grandchildren, we must go to space to tap its unlimited resources and energy. The road to space opens to the door to the infinite and yet unimaginable future generations might enjoy. Paving the way starts now. Blue's part in this journey is building a road to space with reusable launch vehicles that are currently taking payloads to space, but soon it will be humans! More Information
Spaceflight Participant training program by NASTAR
In conjunction with NASTAR, the National AeroSpace Training and Research Center, we offer our clients access to a 2-Day Spaceflight Participant Training Program that is specifically designed to prepare future astronauts who wish to fly on upcoming commercial suborbital/orbital vehicles. Training covered includes the Dynamics of Space, Motion and Acceleration Physiology, Wellness, AGSM and Breathing Techniques, G Tolerance Flights, Space Launch and Reentry Training and Suborbital Space Flight Simulation. Learn More
Space Walk Mission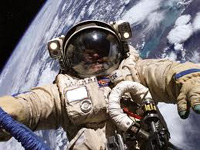 We invite you to become the first private citizen to walk in space. This is an entirely unique opportunity – a historic moment that will never be matched. Relatively few astronauts and cosmonauts have ever left the confines of the space station, but all agree that it is an unforgettable experience. Extra Vehicular Activity, often referred to as a spacewalk, is one of the pinnacles of human spaceflight. Even for cosmonauts and astronauts, the opportunity to leave the space station and float above the Earth is a rare and inspiring experience
Lunar Mission
Make history as the world's first private lunar explorer. Witness Earth rise as you emerge from the far side of the moon. Become a catalyst for humankind's expansion into space. We invite you to join us for the most significant private expedition of our time - launching the first private mission to circumnavigate the moon. This mission builds on space technology originally developed for manned lunar missions, and has been flown over decades as part of the world's most successful human spaceflight program. You will begin your journey to the far side of the moon by first launching aboard a Soyuz spacecraft. Then, a subsequent launch will occur of an unmanned rocket booster. Your spacecraft will rendezvous with this additional system in low-Earth-orbit. The engagement of the two will provide your spacecraft with the required propellant to travel to the moon. Once the firing of the booster is complete, the two systems will separate and you will continue on your majestic journey.
Fly a MiG Jet to the Edge of Space

"I can feel the acceleration and enormous power of the engines behind me. I actually feel (and look) like an astronaut. My body is completely protected by a special G-suit. With a full-face helmet, hermetically closed, I breathe only 100% pure oxygen pumped inside. I'm strapped into the ejection seat in the front cockpit . Alexander is in a separate cockpit, behind and above me. We can't see each other, we can only talk via the radio. But we don't talk much anyway. As we climb higher and higher, the view becomes more and more breathtaking, almost surrealistic. I've never seen anything like it before. Among all the instruments in front of me, I pay attention to only two: the speed indicator which shows Mach 2.8 and the needle on the altimeter indicating 27.000. In other words, we are flying at a speed of more than 3000 km/h at an altitude of 27 kilometers- almost three times higher than Boeing 747 normally flies. The area know as " near space." Few civilians ever have the opportunity to even touch a sophisticated military vehicle such these jets – let alone fly one "at speed". More Information

Aerobatics
You set the stage - each flight profile is customized to your specifications from mild to wild. You can take the controls or ask our fighter pilot to do all the flying. Fly air show maneuvers such as loops, inverted flight, tail slides, torque rolls, accelerated flat spins, outside loops, inverted spins, the knife-edge spin, tumbles, and many more! All missions are flown in the Extra 300L, the world's highest performance certified aerobatic airplane, equipped with a dual controls, smoke and a multi-view audio/video system that records every flight.
Be A Top Gun Fighter Pilot - Basic to Advanced Levels
With a Real Military Fighter Pilot as your tutor, your "real-as-it-gets" Air Combat Mission will take you head-to-head against your adversary. This is the most realistic hard-charging fun-filled air combat experience available in the industry. The military fighter pilots provide an authentic tactical briefing, air combat flying experience, formation, high-speed low-altitude fly-by and comprehensive debriefing to every participant. You take the controls flying multiple real air combat engagements against your adversary. Only the bullets are simulated. All missions are flown in the Extra 300L, the world's highest performance certified aerobatic airplane, equipped with a gunsight, smoke, dual controls, true-to-life sound and a multi-view audio/video system that records every flight.
For More Information on these Products Contact:
CRAIG CURRAN, ASA
Galactic Experiences By DePrez
DePrez Travel Bureau, Inc.
585-442-8900 X224