Revealing Spaceport America's Interior
September 22, 2019 - Truth or Consequences, New Mexico – Today Virgin Galactic revealed the first look at the interior fit-out at Spaceport America in New Mexico.
We are giving a peek into two floors of the 'Gateway to Space' building, which supports spaceflight operations and also incorporates communal spaces designed for use by you, our Future Astronauts, along with your friends and families. It is in line with the Virgin ethos to use inspired and bold design to transform customer experiences. The carefully created result is intended to remove barriers, creating an unparalleled environment for you to prepare (and then celebrate!) your experience alongside spaceship pilots, rocket engineers and Mission Control team mates.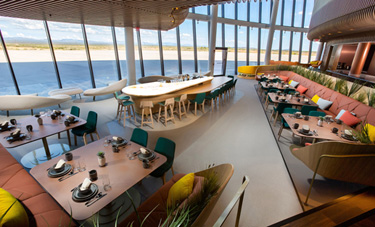 The first floor known as 'Gaia' is focused on our home planet, representing the point of departure and return, as well as the purpose of your journey. The elevated, interactive digital walkway will heighten your departure experience whilst the shared lounge area, the social hub for friends and families and Virgin Galactic employees, provides a fitting welcome to newly-graduated astronauts and promotes interaction, a sense of togetherness and unity.
The second floor 'Cirrus' represents light, air and flight. It is the beating heart of spaceflight operations and provides Mission Control, the Mission Briefing Room the Pilot Corps working area with unrestricted views of ground operation areas including the apron and runway.
Some know there is a third floor, which is exclusively for our Future Astronauts. Virgin Galactic is not revealing that quite yet. This will be something to look forward to. It is a space future astronauts will become very familiar with throughout their training and flight experience. Virgin Galatic further points out that, completion of the interior work means Spaceport America is now operationally functional and able to support flight requirements.
Other exciting news from New Mexico - this week the Virgin Galactic mothership, VMS Eve, arrived at her new home at Spaceport America. Piloted by Kelly Latimer and Dave Mackay, VMS Eve bid a fond farewell to TSC in Mojave, California. Once in the vicinity of Spaceport, the pilots carried out a number of tests of the communications systems and coordinated with the FAA at various locations including White Sands Missile Range, before landing at Spaceport. As she settled into the hangar, the team took a moment to celebrate as VMS Eve becomes the first Virgin Galactic flight vehicle to permanently call the Land of Enchantment her home. She will, of course, return to Mojave to pick up VSS Unity and when both vehicles are in place in New Mexico, Virgian Galactic will continue Unity's flight test program.
About Virgin Galactic
Virgin Galactic, owned by Sir Richard Branson's Virgin Group and aabar Investments PJS, is on track to be the world's first commercial spaceline. The new spaceship VSS Unity) and carrier craft ( VMS Eve) have both been developed for Virgin Galactic by Mojave-based Scaled Composites. The Spaceship Company, a new aerospace production company founded by Virgin Galactic and Scaled Composites, is building the fleet of vehicles for Virgin Galactic. Founded by Burt Rutan, Scaled developed SpaceShipOne, which in 2004 claimed the $10m Ansari X Prize as the world's first privately developed manned spacecraft. Virgin Galactic's new vehicles share much of the same basic design, but are being built to carry six customers, or the equivalent scientific research payload, on sub-orbital space flights, allowing an out-of-the-seat, zero-gravity experience and offering astounding views of the planet from the black sky of space for tourist astronauts and a unique microgravity platform for researchers. The VSS Unity and VMS Eve test flight program is well under way, leading to Virgin Galactic commercial operations, which are based at Spaceport America in New Mexico.
MISSION BRIEFING ROOM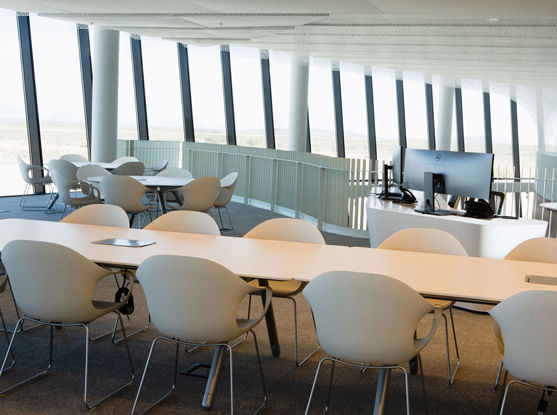 For More Information Please Contact:
CRAIG CURRAN , ASA
Galactic Experiences By DePrez, DePrez Travel Bureau, Inc.
585-442-8900 X224