VIRGIN GALACTIC SIGNS AGREEMENT WITH NASA
Virgin Galactic Signs Space Act Agreement with NASA for Private Missions to International Space Station Increases Commercial Participation in Human Spaceflight to ISS to Advance LEO Economy
Spaceport USA -June 22, 2020 - The recent success of the Crew Dragon flight to the International Space Station (ISS) has renewed excitement for the huge potential the commercial space industry has, to open space for more purposes and to more people than ever before. As one of the companies at the vanguard of this change, we at Virgin Galactic are constantly looking for opportunities which can leverage our capabilities to accelerate the dawning of an important new space age.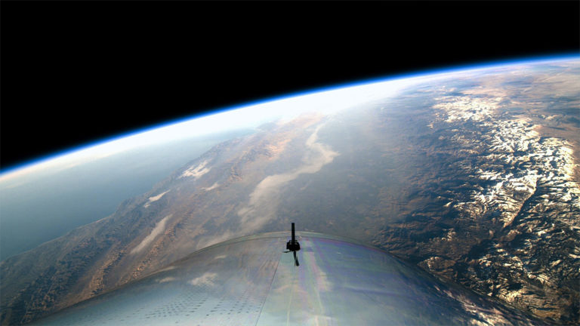 At the end of last week, we were excited to see news from NASA Administrator, Jim Bridenstine, that the agency is developing plans to fly its astronauts on commercial suborbital vehicles such as those operated by Virgin Galactic. And today, we are pleased to share the news that we have signed a Space Act Agreement (SAA) with NASA's Johnson Space Center, to encourage commercial participation in human spaceflight to the ISS.
In essence, under this SAA, Virgin Galactic will be seeking to develop a new astronaut readiness programme for private individuals interested in purchasing missions to the ISS. This programme builds on our commercial spaceflight training experience and position as the world's preeminent space experience brand. It will offer a unique turnkey approach to orbital flight, from the identification of private individuals interested in purchasing missions to the ISS, to the procurement of transportation and the provision of training - all delivered with a proven commitment to personalized customer experience.
As part of this partnership, NASA will leverage Virgin Galactic's commercial expertise and industry knowledge. Virgin Galactic will also contribute end-to-end program management and integrated astronaut training packages for private passengers, tailored to meet the needs for a commercial orbital space flight experience. The partnership also serves as a pathfinder for the ISS National Laboratory by demonstrating additional involvement by the commercial sector in human spaceflight, and may lead to commercial participants conducting research and other commercial activities aboard the ISS.
Virgin Galactic has already developed a customized Future Astronaut Readiness program for its customers flying out of Spaceport America in New Mexico. Virgin Galactic's existing space experiences could play an important role in the training for orbital travel, allowing passengers to become familiar with the environment in space, such as G-forces and zero-G. Spaceport America, Virgin Galactic's home base, will be utilized for some elements of the training program, using the facilities designed for private astronaut training.
George Whitesides, CEO of Virgin Galactic said "We are excited to partner with NASA on this private orbital spaceflight program, which will not only allow us to use our spaceflight platform, but also offer our space training infrastructure to NASA and other agencies. Based on the unsurpassed levels of spaceflight customer commitments we have secured to date, we are proud to share that insight in helping to grow another market for the new space economy. We want to bring the planetary perspective to many thousands of people.".
About Galactic Experiences by DePrez
Galactic Experiences by DePrez is a member of the DePrez Group Of Travel Companies, which is the largest independent travel management firm in central and western NY. Founded in 1929, the group provides extensive and diverse travel services, including cruise sales by Just Cruises, Inc. a top 50 cruise-only agency in N.A., meeting and conventions planning to fortune 100 companies and large associations, corporate travel management, and luxury travel leisure sales through Whitaker & DePrez Travel Partners LLC.
About Virgin Galactic Holdings
Virgin Galactic Holdings, Inc. is a vertically integrated aerospace company, pioneering human spaceflight for private individuals and researchers, as well as a manufacturer of advanced air and space vehicles. Using its proprietary and reusable technologies and supported by a distinctive, Virgin-branded customer experience, it is developing a spaceflight system designed to offer customers a unique, multi-day, transformative experience. This culminates in a spaceflight that includes views of Earth from space and several minutes of weightlessness that will launch from Spaceport America, New Mexico. Virgin Galactic and The Spaceship Company believe that one of the most exciting and significant opportunities of our time lies in the commercial exploration of space and the development of technology that will change the way we travel across the globe in the future. Together we are opening access to space to change the world for good.
For More Information Please Contact:
CRAIG CURRAN , ASA
Galactic Experiences By DePrez, DePrez Travel Bureau, Inc.
585-442-8900 X224