VSS UNITY RETURNS TO SPACE
Virgin Galactic Readies for Commercial Spaceline Operations Begining with the "Galactic 01" Mission Planned for Late June
Mission Specialists Jamila Gilbert, Christopher Huie, and Luke Mays Become Newest Virgin Galactic Astronauts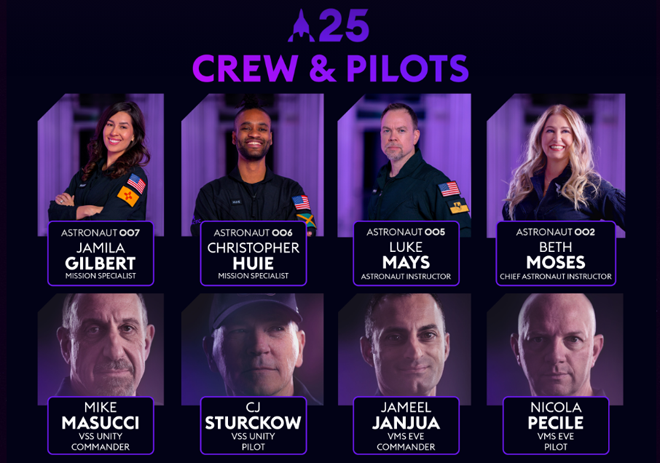 SpacePort America, NM - May 25, 2023 - VMS Eve and VSS Unity touched down this morning under the beautiful blue skies at Spaceport America, completing a successful spaceflight with VMS Eve and VSS Unity ahead of commercial spaceline operations. The crew onboard included Virgin Galactic teammates, who as Mission Specialists evaluated the end-to-end astronaut training and spaceflight experience. They will be conducting detailed debriefs but wanted to share what it can be summed up in one word..."incredible!". Congratulations to the team for their hard work, passion and dedication.
VIRGIN GALACTIC READIES FOR COMMERCIAL SERVICE
Virgin Galactic will be sharing more information in the coming weeks as the team begins post-flight inspections and analysis in preparation for 'Galactic 01' a dedicated research mission planned for late June. This will mark the beginning of commercial spaceline operations, and after that Virgin Galactic planns to start its commercial spaceflights.

About Galactic Experiences by DePrez
Galactic Experiences by DePrez is a member of the DePrez Group Of Travel Companies, which is the largest independent travel management firm in central and western NY. Founded in 1929, the group provides extensive and diverse travel services, including cruise sales by Just Cruises, Inc. a top 50 cruise-only agency in N.A., meeting and conventions planning to fortune 100 companies and large associations, corporate travel management, and luxury travel leisure sales through Whitaker & DePrez Travel Partners LLC. Galactic Experiences offers Out-of-this-World missions and curates exciting Adventure Travel experiences.
About Virgin Galactic Holdings
Virgin Galactic Holdings, Inc. is a vertically integrated aerospace and space travel company, pioneering human spaceflight for private individuals and researchers, as well as a manufacturer of advanced air and space vehicles. It is developing a spaceflight system designed to offer customers a unique and transformative experience.
For More Information Please Contact:
CRAIG CURRAN , ASA
Galactic Experiences By DePrez, DePrez Travel Bureau, Inc.
585-442-8900 X224