The Virgin Galactic Space Experience
Prepare for the most exciting, exhilarating, and thrilling experience of your life!
THE PREQUEL
You have made your reservation. You have your seat number. You are now a part of history. You are an integral piece of the newest and most advanced development in the history of space. And your adventure starts now!
Our future astronauts are an elite group. Your participation in this group will build comradery and lifelong friendships with like minded individuals. It is a very special person who blazes a trail. You and your fellow astronauts are visionaries, early adopters, and explorers. You are leaders in industry, business, entertainment and the sciences. You are literally the first commercial astronauts in human history. We will be celebrating this fact throughout a variety of special activities and events. You are part of an elite and special group. So what can you expect? How about a visit with Sir Richard Branson on private Necker Island to spend a week of luxury amongst fellow space adventurers. In October of 2011 our astronauts were invited to the dedication of the Virgin Galactic terminal at Spaceport America, the home of our SpaceShipTwo and WhiteNightTwo space vehicles as well as our operations center. Also to variouse air shows where Virgin Galactic is featured. And let's not forget the parties and networking events taking place around the globe.
Now it won't be just fun and games. You are a part of the actual development of this new frontier. Already our astronauts have participated in G-training and flight simulations to establish flight protocols and flight fitness medical standards. Our astronauts are consulting us on cabin design and expectations for the flight experience. And our astronauts will be critical in developing our pre-flight training programs.
THE APPETIZER
Launch Minus 3
You will arrive in the Mojave Desert in New Mexico a number of days prior to your flight. Accommodations are provided in our purpose built Astronaut Hotel exclusively for SpaceShipTwo passengers. Here you will get acquainted with the crew and other astronauts. Initial orientation programs will commence with a thorough tour of Spaceport America and a review of procedures at the Spaceport. Lots of questions will be asked and answered in anticipation of what will be next in this experience.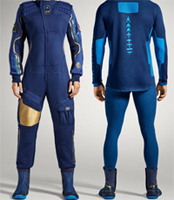 Launch Minus 2
Preparations begin in earnest at Spaceport America, the first built commercial spaceport in the world. Now it's time for butterflies of anticipation. You will be fitted for your Phillip Starck designed space suit. More Details Here.
You will meet with the flight surgeon for final medical checks. Next it's time to undergo G-force and weightless training that will likely include preparation flights in WhiteKnightTwo's auxiliary cabin made up as an exact replica of SpaceShipTwo. You will meet your flight team, both in the air and on the ground and finish initial flight preparations with launch training.
Launch Minus 1
Anticipation is at a new height. You receive final instructions on use of the "personal Communications Console", run through a complete flight dry run, and a flight debriefing. Sleep will be hard to come by tonight.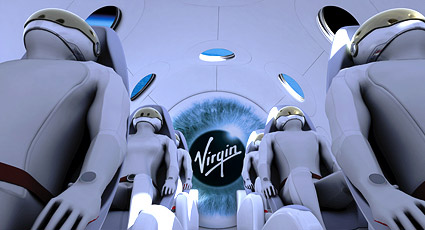 THE MAIN COURSE
Launch Day
You have made it. Today is the big day! While friends and family await your return in the Spaceport Lounge you will be preparing for take-off. Don't worry – every seat has a window view. After days of preparing with your crew – you're suited up and you're ready to go.
SpaceShipTwo is solidly berthed in the grasp of the mother ship WhiteKnightTwo as you begin your roll out along the purpose built 10,000 foot runway. You are attached to the most advanced, virtually pure carbon composite aircraft ever built. As you separate from mother earth you begin your 45 minute climb to 50,000 ft. Your seat is in the "raised" position as you gaze back at the desert and review the flight profile that awaits. As you approach 50,000 ft. WhiteKnightTwo commences its deployment run. Your seat lowers into the cabin floor in preparation for the G's associated with rocket ignition. A final check list review and it's time.
Space Ship Two is released – 50,000ft above the desert floor. Space Ship Two drops. 1 second – 2 seconds – 3 seconds …..nothing. Then it hits. You are instantly pinned to the back of your seat. A wave of unimaginable but controlled power surges through the craft. 5 to 10 seconds after ignition the pilot will pull the spaceship up to vertical exposing you to 3.8G's on the Z axis. You are overwhelmed but enthralled by the howl of the rocket motor and the eye- watering acceleration which, as you watch the read-out, has you traveling in a matter of seconds, at mach 3.4 - over 3 times the speed of sound - almost 2500mph.
For the next 90 seconds you hurtle through the edges of the atmosphere, the large windows show the cobalt blue sky turning to mauve and indigo and finally to black. You're on a high; this is really happening, you love it and you're coping well. You start to relax; but in an instant your senses are back on full alert, the world contained in your spaceship has completely transformed. The motor has been cut. The tremendous momentum continues to carry Space Ship Two higher, ultimately climbing to its peak altitude of 360,000 feet – 68 miles above Earth. It is silent. Not quiet – SILENT. Unlike anything you have ever "not" heard. And it's black. Not dark – but BLACK. Unlike any darkness you have ever experienced. Of course there are the stars breaking through the darkness. You will see the heavens as they truly are – without the interference and distortion of the earth's atmosphere. And you will see Earth. Bathed in the sun's rays, the atmosphere is an iridescent thin band that surrounds the globe. You can see over 1000km in any direction.
And did we mention you're weightless? Entirely so. This is no theme park ride. Now its time - you release your seat harness and float effortlessly throughout the cabin. It takes a moment to really get your bearings – but soon a somersault here, a gentle spin there, and you make your way to one of the large windows to look. To be mesmerized. To be changed. This is what you came here for.
Revel in it. Drink it in. Let the next 4 to 6 minutes shape your view of our species and our planet – our place in the universe. Enjoy it. Those very few to have come before you report humbling awe and a sense of responsibility as they comprehend the frailty of the thin blue line surrounding our world.




























Now it's time to make your way back to your seat and to lock-in as Space Ship Two points back toward Earth. The trip is by no means over yet. You now embark on a thrilling 90-second reentry, peaking at nearly 6 Gs on the X axis - significantly more than those experienced during your climb out. As the craft descends to an altitude of 70,000 ft, the spaceship's wings, which have been neatly "feathered" up throughout the flight will rotate back to their "flight" position to glide you safely back to Earth. For the next 45 minutes you will gently glide to the desert floor. No engines. No G forces. Just 45 minutes to watch the earth approach and to process all that has taken place.
THE DESSERT
When you arrive back on Earth you will take inventory. "I actually rode a spaceship into space and looked down at Earth. I made history. I contributed. I belong to a very elite club." You will exit Space Ship Two and there will be applause, and no doubt loved ones will be relieved to see you back on terra firma. There will be hand shakes and you will receive your wings. You will have your flight debriefing. You will collect your flight video. There will be a celebration.
It is likely you will be changed. At least this is what every person before you have reported after seeing what your eyes have just witnessed. Perhaps it will happen today, perhaps tomorrow. But for all who have been to space, their understanding of who we are, our place in the universe, and who they are as individuals has been altered by the experience. This has been a remarkable journey.
To look out at this kind of creation and
not believe in God is to me impossible.
– Astronaut John Glenn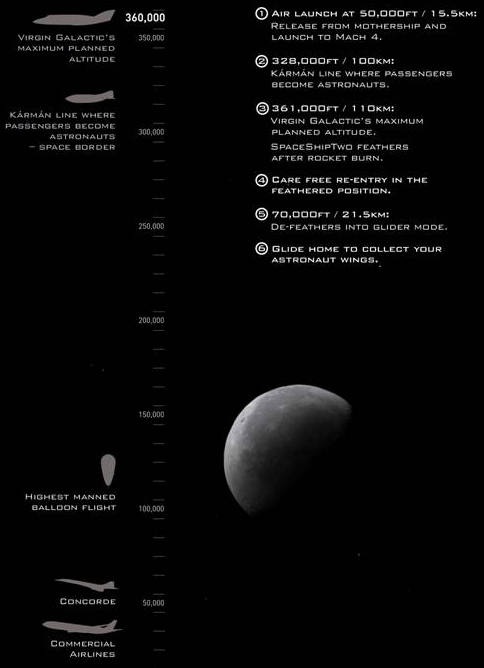 For More Information on this Product Contact:
CRAIG CURRAN, ASA
Galactic Experiences By DePrez
DePrez Travel Bureau, Inc.
585-442-8900 X224