SPACE PERSPECTIVE UNVAILS IMAGES OF BALLOON CAPSULE
Spaceship Neptune Charted to Start Carrying Customers to the Stratosphere in 2024.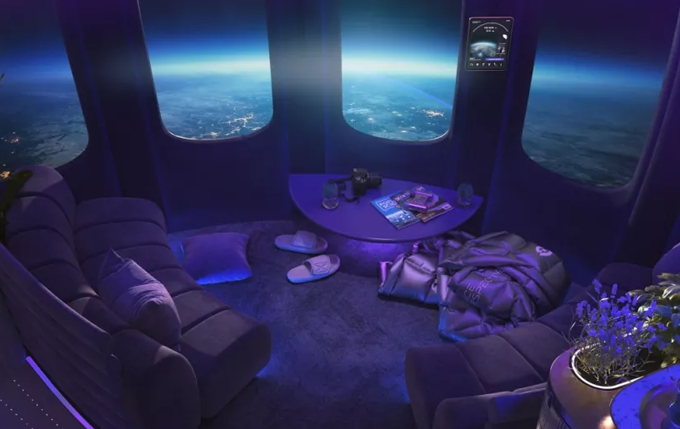 Newly revieled interior of Space Perspective's balloon-borne stratospheric capsule. (Image credit: Space Perspective)
April 12, 2022 - Kennedy Space Center, Fla.- Space Perspective is a Florida-based company working to send paying customers (as well as research payloads) to the stratosphere aboard its "Spaceship Neptune". Their passengers will be set to to fly in style in a pressurized capsule that will cruise high above Earth beneath an enormous balloon.
In the just released artist's illustrations of the interior of Spaceship Neptune, The capsule will include 360-degree panoramic windows and even a restroom with a view. The announcement Tuesday (April 12) coincided with the anniversary of the first human spaceflight by cosmonaut Yuri Gagarin in 1961.
"It is an incredible privilege launching from the space coast, where the history of human spaceflight was forged over the past decades and continues to build momentum today. Flying on Spaceship Neptune will be an extraordinary experience for our Space Explorers," said co-CEO and founder Jane Poynter.
Based on the imagery, Spaceship Neptune's cabin appears to come in at least a couple of configurations. One has reclining seats, for example, while another with couches can accommodate a "more intimate dinner for two or special event," Space Perspective representatives said in a statement on Tuesday. Space Perspective plans to provide food and beverage services. The capsule also features mood lighting that can be dimmed to see stars and the curvature of Earth.
Also included in the capsule's "Space Lounge" will be a telescope, interactive screens and decorations such as floor lamps and plants to "remind us of the interconnected nature of our planet," the company added.
"Our mission is to inspire space explorers to connect more closely with our planet and each other, and the environment in which they travel with us is central to this," Jane Poynter, founder, co-CEO and chief experience Officer of Space Perspective, said in the same statement. "Our Space Lounge is a world away from the white, utilitarian environments you find in other spacecraft."
A typical Space Perspectives mission will lift off at dawn and will take about two hours to reach the maximum altitude of 100,000 feet (30 kilometers). Spaceship Neptune will glide for two hours at such heights, then take another two hours or so to descend leisurely toward an ocean splashdown, after which it will be retrieved by ship.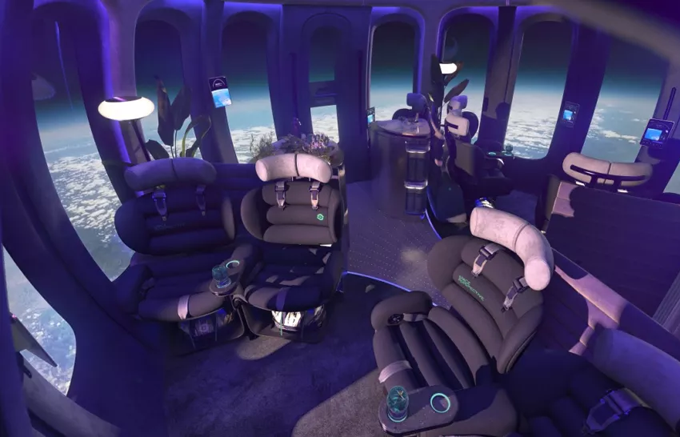 So far, there are about 600 people on Space Perspective's waiting list; each has made a refundable deposit of as little as $1,000. The company has raised millions of dollars in seed funding and made a successful uncrewed test flight from NASA's Kennedy Space Center in Florida in 2021.
Space Perspective, founded in 2019, was created to make spaceflight more accessible to all, and to provide the thrilling opportunity to see Earth as a planet in space. Spaceship Neptune was developed from the onset for maximum safety, accessibility, near zero-emissions and routine operations around the world. The spaceballoon could hold an entire football stadium when inflated and the pressurized capsule is comfortable and spacious.
Flown by a pilot, Spaceship Neptune transports eight passengers, called "Space Explorers," on a thrilling six-hour journey to space, along with research payloads. The two-hour gentle ascent above 99% of the Earth's atmosphere to 100,000 feet, Spaceship Neptune glides above the Earth for up to two hours allowing passengers to share their experience via social media, with their friends and family. Spaceship Neptune then makes a two-hour descent under the spaceballoon and splashes down, where a ship retrieves the passengers, the capsule, and the spaceballoon. Spaceship Neptune's commercial human spaceflight launches are regulated by the FAA Office of Commercial Spaceflight.
About Space Perspective
Space Perspective is the world's first luxury spaceflight experience. It invites more people than has historically been possible to experience a thrillingly new and visceral perspective that expands the human consciousness – the incredibly exhilarating panoramas and scale of Earth in space. Our atmosphere stretches for 100s of miles into space, Spaceship Neptune flies above 99% of it.
Setting a new bar in out-of-this-world thrilling experiences, as soon as late 2024 Space Perspective will escort Space Explorers gently to space inside Spaceship Neptune's pressurized capsule propelled by a high-performance spaceballoon that doesn't use rocket fuel, where Explorers see the world anew through its vast windows. The ultra-comfortable, accessible and gentle six-hour journey redefines what space and wonder travel means for the modern traveler.
Based out of Kennedy Space Center, Space Perspective is led by industry luminaries Jane Poynter and Taber MacCallum, and their expert crew who have been integral to all human spaceballoon flights in the last 50 years. Poynter and MacCallum have been dubbed 'Masters of the stratosphere,' by Bloomberg Business Week, and MacCallum served as Chairman of the Commercial Spaceflight Federation. For More information on Space Perspective, Check out our products page.
About Galactic Experiences by DePrez
Galactic Experiences by DePrez is a member of the DePrez Group Of Travel Companies and is the largest independent travel management firm in central and western NY. Founded in 1929 the group provides extensive and diverse travel services, including cruise sales of Just Cruises, Inc. a top 50 cruise-only agency in N.A.), meeting and conventions planning to fortune 100 companies and large associations, corporate travel management, and luxury travel leisure sales through Whitaker & DePrez Travel Partners LLC.
For additional information please contact Craig Curran at ccurran@galacticexperiencesbydeprez.com.
For More Information Please Contact:
CRAIG CURRAN , ASA
Galactic Experiences By DePrez, DePrez Travel Bureau, Inc.
585-442-8900 X224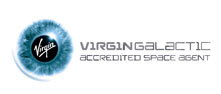 SPACE

ZERO GRAVITY FLIGHTS

SUBORBITAL

SPACE TOURISM