NY TIMES INTERVIEWS CRAIG CURRAN
Written By JESSE McKINLEY / Published September 7, 2012 /The NY Times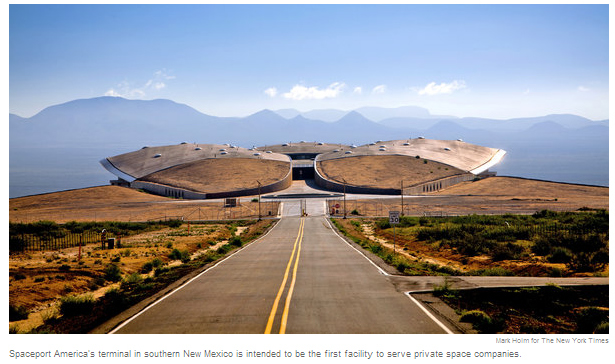 WEDGED between a strip-mall chiropractor and a cluster of optometrists in Rochester, N.Y., the offices of the DePrez Group of Travel Companies hardly seems like the kind of place where someone would begin a journey to the stars.
But Craig Curran, the company's president, says that's exactly where he can take you — provided, of course, that you have a spare $200,000 lying around. Mr. Curran, you see, is a so-called "accredited space agent" for Virgin Galactic, an outfit founded by the multitasking mogul Richard Branson that is promising to take hundreds of high rollers some 60 miles up in a futuristic craft known as the SpaceShipTwo. And while the flight lasts only two hours or so, with a mere five minutes spent coasting in weightlessness, the bragging rights will go on forever.
"If you could say my family came over on the Niña, the Pinta or the Santa Maria, this is the equivalent," said Mr. Curran, wearing a black Virgin Galactic T-shirt and an enthusiastic smile. "You are part of the birth of an industry."
Virgin Galactic may be aloft as soon as next year, just one among a handful of companies competing to take amateur astronauts to the upper reaches of the atmosphere — and beyond. In what may be the final frontier in extreme tourism, these outfits are offering experiences that range from a few moments of weightless wonder (most for six figures), to weeks-long Apollo mission-style adventures (for, gulp, nine). Forget climbing Everest, trekking to the South Pole or canoeing up the Amazon: How about taking a trip to the far side of the moon?
That's exactly the package being offered by Excalibur Almaz, based on the Isle of Man, which recently announced its intention to send people — very, very wealthy people — to a "gravity neutral point" near the moon for the ultimate get-away-from-it-all. The price: About $150 million. Wait, you're on a budget? O.K., well, for just $50 million, Space Adventures, in Virginia, says its can get you to the International Space Station, a trip seven people have already enjoyed that includes up to 12 days in orbit and, presumably, all the freeze-dried ice cream you can eat.
Not crazy about the lodging options? Well, if you're willing to wait, the owner of the extended-stay hotel chain Budget Suites of America, Robert T. Bigelow, says that he plans to launch a variety of private space stations (nightly rate to be determined).
And while some trips will be more readily available in the near term than others, scientists and players in the space race say that the long-fanciful idea of vacationing in space, if only for a few moments, is on the cusp of becoming reality.
"There's no question, in the next couple of years there's going to be commercial space tourism," said Roger D. Launius, senior curator of space history at the National Air and Space Museum at the Smithsonian Institution. "That's clearly going to happen."
MR. LAUNIUS and other experts say suborbital flights in reusable vehicles are more feasible than, for example, retracing the steps of the Apollo mission. And confidence is high that there is an appetite for even brief tastes of space: last month, the Tauri Group, a Washington-area consulting firm with a specialty in space issues, found a potential market of up to $1.6 billion over the next decade for suborbital flights.
"In terms of an industry moving toward fruition, versus an industry that has a plan," said Carissa Christensen, managing partner of the Tauri Group, "I think it has absolutely made that shift."
There is a variety of practical reasons for the sudden surge in activity. They include cheaper, better technology and composite materials, along with a burst of previously pent-up entrepreneurship let loose by NASA's new need for private companies to replace shuttle flights. For its part, NASA says it is "counting on the innovative commercial space industry" for rides to the space station and other low-orbit destinations.
But the desire for such trips may also lie in the fact that people are simply running out of places to go.
"Not everyone climbs Mount Everest," he says.
"Every square inch of Earth, pretty much, has been explored at this point by somebody," said Eugene Linden, a science and environmental writer and the author of "The Ragged Edge of the World," about the planet's endangered wild lands. "Next, we'll be hearing about roller-skating across the East Antarctic ice sheet or something like that in order to have some sense of accomplishment."
Mr. Linden also suggested that some of the lust for going to space may come from a primal animal drive to do something no one else can imitate — something, he says, that is "meant to show reproductive robustness on the part of the male."
Mr. Linden added that while males "can fake a lot of things — you can rent a Ferrari for the weekend — it's hard to fake going to outer space."
Sure enough, Virgin Galactic says 77 percent of its customers are male. And many of those leading the charge to the cosmos are deep-pocketed, ample-ego men like Mr. Branson, 62, who in addition to running the billion-dollar Virgin Group also recently became the oldest man to kite surf across the English Channel (really). And Virgin Galactic's own SpaceShipTwo happens to be based on a craft — SpaceShipOne — that was backed by the Microsoft co-founder Paul Allen. (In 2004 SpaceShipOne became the first privately developed manned vehicle to reach space. It carried a single pilot; no tourists were allowed.)
Then there's Elon Musk, the dashing chairman of Tesla Motors who founded the SpaceX company, which develops rockets, who hopes to cart astronauts and cargo aloft. SpaceX also promises, according to a spokeswoman, to ultimately "make life interplanetary."
Then there's Elon Musk, the dashing chairman of Tesla Motors who founded the SpaceX company, which develops rockets, who hopes to cart astronauts and cargo aloft. SpaceX also promises, according to a spokeswoman, to ultimately "make life interplanetary."
Jeff Bezos, the founder and chief executive of Amazon, meanwhile, has Blue Origin, a media-shy operation promising "human access to space at dramatically lower cost and increased reliability" with suborbital flights and other orbital services, according to the Web site.
Indeed, companies planning to offer suborbital trips are already involved in the type of service boasts and fare battles common among airlines, whose early days are often likened to the current state of space companies. While Virgin Galactic, for example, is charging $200,000, Space Adventures, working with Texas-based Armadillo Aerospace, says it can get you there for about half that. And that's not even the cheapest: a company called XCOR Aerospace is working on a nifty little space coupe called the Lynx, which would offer a two-person flight — just you and the pilot — for $95,000.
"This is more like the 'Right Stuff'-kind of experience," said Col. Richard Searfoss, a company test pilot, in a promotional video on the Web site. Missions are expected to start by 2014.
Once the flights are operational, they will be brief and action-packed. SpaceShipTwo, for instance, will carry six passengers and two pilots. Attached to a twin-fuselage jet, it will take off from Spaceport America, a sleek, futuristic complex on a desolate patch of ranchland in southern New Mexico. It will then cruise to about 50,000 feet, where it will detach and tip skyward, blasting off toward higher orbit. Noise and some serious G-forces will ensue, but once customers reach 60 miles or so, they will coast along in almost complete silence. (Except for your gabby co-astronauts, no doubt.)
PASSENGERS will then be able to unbuckle from their seats, float in weightlessness and take some killer vacation photos. And oh, what a view: hundreds of miles in every direction, with a glimpse of the Earth's curve and the luminous arc of the atmosphere.
Re-entry will be a little more intense, with the ship's wings folding and body-depressing G-forces, until it arrives at about 70,000 feet, at which point the wings will open again and the plane will glide back to the Spaceport and the astronaut's giddy family members (and, one hopes, a fully-stocked bar).
While the price is steep, the physical requirements are expected to be simple: basic health. And bravery, of course. Paul Barbara, 54, a marina and boat salesman from Babylon, N.Y., said he put down his $200,000 after a lifelong obsession with space. He said he planned to lose some weight before his flight but had no trepidation about being so high above the planet. "I wouldn't bungee jump," he said, "but I'll go to outer space." According to Virgin Galactic, the passenger list already includes a teenager and a 90-year-old.
In promotional materials for Virgin Galactic, Glenys Ambe, an Australian fashion retailer, says she bought a ticket as an early 60th-birthday present to herself. "How cool," she said.
Such awe-struck idealism is echoed by many of the corporate backers of the suborbital business, who dislike the term "space tourism," saying it demeans the true beauty of slipping the bonds of Earth.
"We think in terms of explorers and expeditions," said J. Buckner Hightower, the executive vice president of Excalibur Almaz, who said that human space exploration — versus robotic — is a guiding principle.
"Manned space has always been my thing," he said. "I grew up reading fiction about humans exploring the cosmos. And I just think that it's a two-legged proposition."
When exactly that proposition becomes a statement of fact, mind you, is an open question. Companies still have to clear all sorts of regulatory, legal and logistical hurdles. Certain details — departure dates, for example — can be hard to come by. Still, Virgin Galactic says that it has more than 500 confirmed customers, many of whom have paid the entire $200,000 to guarantee a seat. (More recent customers have been asked to put down just 10 percent, which is fully refundable.)
Meanwhile, Mr. Bigelow's company — whose so-called "habitats" are launched in a rocket and then expand like space accordions into rudimentary dwellings — is in a holding pattern until the company can find carriers capable and ready to transport guests. (But don't chuckle at the concept: two of Mr. Bigelow's futuristic bouncy castles have already been shot into orbit.)
Of all the private companies, Space Adventures has perhaps the most established track record, having sent a series of paying customers to the space station over the last decade. Like some of its competitors, Space Adventures sometimes uses technology and facilities from the former Soviet Union, including a launch facility in Kazakhstan (If you're interested, though, you'll have to wait: the next flight isn't scheduled until 2014 or so.) Those trips — to an orbit of more than 200 miles — are just one of several spacey options offered by the company. Others include zero-gravity flights on a modified 727, starting at $4,950, and flight training in a centrifuge machine starting at $9,750 (airsickness bag not included).
Customers of Space Adventures say the cost is worth it. Richard Garriott, a video game designer who grew up in Houston (his father, Owen, was an astronaut), traveled to the space station in 2008 and said that the vistas from on high could be life-changing.
"The biggest single moment was when I could look down and see an area I knew intimately — Texas — and then see the rest of the Earth," Mr. Garriott recalled. "I thought, 'I now know the true scale of the Earth by direct observation.' "
The biggest ticket item is the company's never-before-tried trip to the far side of the moon (similar in destination and price to the Excalibur Almaz trip), which would cost some $150 million, but would allow the buyer to "become a catalyst for humankind's expansion into space," according to the company's Web site. Tom Shelley, the company's president, said he'd already sold one seat (launch is scheduled for 2016 ... or 2017).
The biggest ticket item is the company's never-before-tried trip to the far side of the moon (similar in destination and price to the Excalibur Almaz trip), which would cost some $150 million, but would allow the buyer to "become a catalyst for humankind's expansion into space," according to the company's Web site. Tom Shelley, the company's president, said he'd already sold one seat (launch is scheduled for 2016 ... or 2017).
"The moon," he said, "is within our reach."
Maybe. Skeptics still have their doubts. Paul Milo, author of "Your Flying Car Awaits," which chronicles various failed predictions about space tourism, among other things, said the idea of an average person going to the moon is still far-fetched. "To be optimistic, maybe by 2030 that could happen," Mr. Milo said.
But Mr. Milo was more bullish on suborbital flight, in large part because master marketers like Mr. Branson and Mr. Bezos are involved. "The folks at NASA thought about solving a problem," Mr. Milo said of early spaceflights. "Private companies think about market appeal."
George Whitesides, the chief executive and president of Virgin Galactic, agrees that the company's goal is not only to fly people to suborbital space for five minutes, but also to "establish the first commercial space line," with an emphasis on customer service, something that Virgin has road-tested with its cooler-than-thou airline.
"It doesn't just mean that you have a vehicle that works," he said. "You have to have a whole customer experience that works."
To that end, customers will have a three-day training course at the Spaceport before launch day. And there is talk of building a hotel nearby for families and other well-wishers. (Mr. Whitesides said he can see the company eventually establishing a hotel in space, too, but let's not get ahead of ourselves.)
THAT said, Mr. Whitesides underscored that the company's bigger mission is to "keep on opening up space to humanity," something that will, he hopes, involve lowering that $200,000 price tag. "We want it so that it's no longer restricted to the elite-elite," he said.
It's just such democratization that Mr. Curran seems to be trying to spread. And while Rochester — home of the bankrupt Eastman Kodak company — might not seem like a fertile market, Mr. Curran said he'd already sold one Virgin ticket since becoming an accredited space agent last year.
For his part, Mr. Curran, 55, says space never held a particularly strong lure for him. But this has not stopped him from putting down his own $20,000 deposit — for a space trip.
Asked why, he sounds Kennedy-esque.
"I don't know where it's going to take me, and I don't think it would be fair to get involved with it if I only had some sort of guarantee about what I was going to get out of it," he said. "The question might better be asked: What am I going to contribute to it?"
About Craig Curran
President of the DePrez Group Of Travel Companies, Craig has been a travel agent for the past 30 years. He has traveled the globe and directed the growth of the DePrez Group into one of the most diverse and successful independent travel management firms in the United States.
Mr. Curran is the Board Chairman of VisitRochester, the convention and visitors bureau for Rochester, NY. He also serves on the Hillside Family of Agencies Board of Governors and resides in Pittsford, NY. Mr. Curran has long been fascinated with space and space travel. He has flown light jets, skydived and is an avid scuba diver.
About Galactic Experiences by DePrez
Galactic Experiences by DePrez is a member of the DePrez Group Of Travel Companies and is the largest independent travel management firm in central and western NY. Founded in 1929 the group provides extensive and diverse travel services, including cruise sales of Just Cruises, Inc. a top 50 cruise-only agency in N.A.), meeting and congress planning to fortune 100 companies and large associations, corporate travel management, and luxury travel leisure sales through Whitaker & DePrez Travel Partners LLC
For additional information please contact Craig Curran at ccurran@galacticexperiencesbydeprez.com.

For More Information Please Contact:
CRAIG CURRAN , ASA
Galactic Experiences By DePrez, DePrez Travel Bureau, Inc.
585-442-8900 X224