Nasa Successfully launches New Orion Spacecraft
Nasa launches Orion space capsule in first step towards Mars mission
Cape Canaveral, FL - December 5, 2014 - Today the unmanned capsule takes off on a mission that space agency hopes foreshadows first human expedition to fourth planet. At 7.05am ET (12.05pm GMT) on Friday a dense bloom of fire and smoke shrouded the launchpad in Cape Canaveral, Florida, as the unmanned Orion capsule rose into clear skies on the Delta IV heavy rocket.
Nasa had to postpone an initial launch on Thursday after a boat entered the launch area, strong winds forced automatic aborts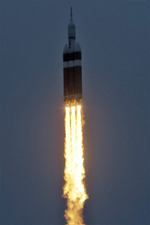 , and two valves failed to close properly. However, Friday's launch went smoothly, and cameras mounted on the rocket beamed back stunning pictures of the Earth as Orion blasted into the sky.
The mission could have huge implications, despite its brief four-and-a-half-hour duration. Orion will fly farther than any spacecraft made for astronauts has in decades, about 3,600 miles (5,800km) above the Earth's surface, and is a test case for a capsule that Nasa hopes will one day land on Mars.
As its second orbit comes closer to the planet, flying about 17,000mph, the Orion capsule will separate and re-enter the atmosphere, eventually splashing down into the Pacific off the coast of southern California, where it will be recovered.
The mission will test how Orion fares in the extreme conditions of space travel. Nasa has designed the capsule to take up to six astronauts into deep space, and its 16ft-wide heat shield and sophisticated service module are among the features whose durability will be inspected upon return.
The capsule must not only survive launch and orbit, but temperatures of about 2,200C (4,000F) as it returns through Earth's atmosphere and searing plasma envelops the craft. Nasa will also test an emergency abort function developed to save astronauts in the event of a malfunction during launch. More than 1,000 sensors on board the capsule will measure every detail of the flight for analysis. Finally, as Orion plummets toward the ocean, massive parachutes should deploy in stages to slow the capsule's descent.
Nasa has planned a second unmanned flight for 2018, and a manned mission to travel around the moon for the 2020s. Eventually, the agency hopes to send astronauts on an Orion mission through deep space to an asteroid and Mars in the 2030s.
Mark Geyer, the flight's program manager, said at a conference before Thursday's scubbed launch that Orion represents "the beginning of that journey" into deeper space.
As Orion travelsto and from to its farthest point – about 15 times farther than the distance of the International Space Station from Earth – it will pass through a zone of intense radiation. Nasa particularly wants to know how Orion withstands this radiation so as not to endanger humans on later missions.
Budget issues and uncertainty have plagued Nasa's plans for the future, although recent presidents have consistently urged the agency to aim high. In 2010 Barack Obama, who cancelled a $10bn program to return Americans to the moon, said he supported a mission of greater ambition: "By the mid 2030s I believe we can send humans to orbit, Mars and return them safely to Earth."
Nasa scavenged much from the scrubbed project and transferred those gains to the current Orion program.
The test flight, estimated to cost $375m, also carries several mementos of our planet: a Tyrannosaurus rex fossil, poems by Maya Angelou, Gustav Holst's The Planets and several artifacts of the TV program Sesame Street, such as one of the Cookie Monster's cookies and Grover's cape. Nasa and public broadcaster PBS hope their partnership will encourage children to study space.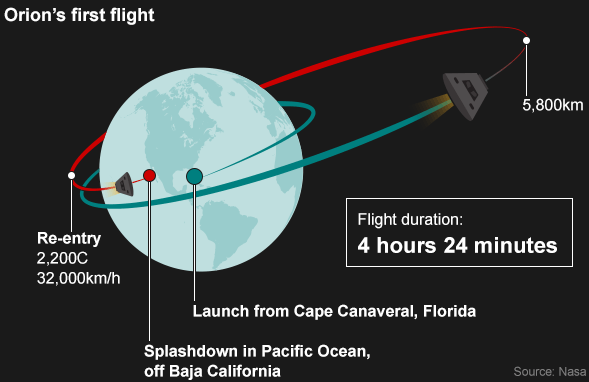 About Galactic Experiences by DePrez
Galactic Experiences by DePrez is a member of the DePrez Group Of Travel Companies, which is the largest independent travel management firm in central and western NY. Founded in 1929, the group provides extensive and diverse travel services, including cruise sales by Just Cruises, Inc. a top 50 cruise-only agency in N.A., meeting and conventions planning to fortune 100 companies and large associations, corporate travel management, and luxury travel leisure sales through Whitaker & DePrez Travel Partners LLC.
For More Information Please Contact:
CRAIG CURRAN , ASA
Galactic Experiences By DePrez, DePrez Travel Bureau, Inc.
585-442-8900 X224