RocketMotorTwo Testing Continues
June 21, 2012 - MOJAVE, Calif. - SpaceShipTwo will be powered by a unique hybrid rocket motor, which is currently under development at Scaled Composites. The twin fuselage and central payload area configuration allow for easy access to WhiteKnightTwo and the spaceship for passengers and crew; the design also aids operational efficiencies and turnaround times. SpaceShipTwo utilizes the unique feather configuration that allowed SpaceShipOne to successfully re-enter the atmosphere.
Many subscale hot-firings were performed at Scaled Composites, LLC to evaluate several different fuels, igniters, injectors, insulators and nozzle configurations, as well as other components and parameters.

The following list includes summaries of the recent hot-fire activity of the RocketMotorTwo rockets.

Fire: 12

Date: 20 June 2012

Objectives:
Perform first full scale rocket motor hot-fire at Scaled's test facility
Test stand evaluation
Data Acquisition system evaluation
Rocket Motor Controller performance
Pressurization System Controller performance
Rocket system performance
Valve / Injector / Igniter evaluation
Fuel formulation evaluation
CTN structural evaluation e

Results:
First full scale firing of a rocket motor at Scaled's test site under full control of the spaceship's Rocket Motor Controller (RMC). All objectives achieved. The difference between Scaled's site and SNC's site at Lakeside is the focus on using SS2 flight vehicle hardware. These tests provide an end to end test of all the vehicle's rocket motor systems and additional confidence before committing the vehicle to powered flight test

Fire: 11
Date: 6 June 2012

Objectives:
Eleventh full scale flight design RM2 hot-fire.
Continued evaluation of all systems and components:
- Pressurization
- Valve/Injector
- Fuel formulation and geometry
- Nozzle
- Structure
- Performance

Results:
All objectives completed. Performed targeted 50 second hot fire as planned. Duration of burn chosen to allow examination of internal geometry.

---
.
About Scaled Composites
Founded in 1982, Scaled Composites specializes in the design, fabrication and flight testing of prototype aircraft and spacecraft from composite materials. Scaled is a project-oriented company that offers services within a concept-to-completion environment. Their services include conceptual design, aerodynamic and structural analysis and design, tooling, fabrication, structural testing, flight testing and simulation.
Rocket Motor Testing at Scaled Composites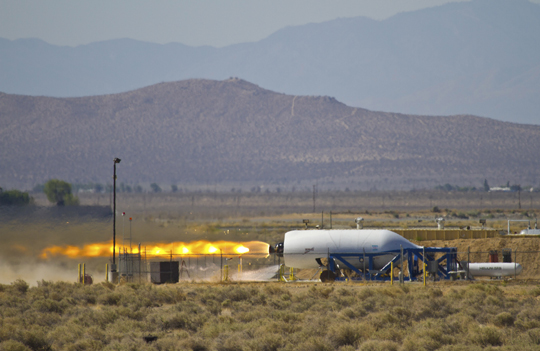 For More Information Please Contact:
CRAIG CURRAN , ASA
Galactic Experiences By DePrez, DePrez Travel Bureau, Inc.
585-442-8900 X224