Update: VSS Unity glide flight – with propulsion system
August 4, 2017 - MOJAVE, Calif. – Since VSS Unity's last flight, the team have been focused on installing the propulsion system and associated ground based tests. With those activities complete, our beautiful spaceship took to the skies again this morning for her sixth glide flight.
Pilots Dave Mackay and CJ Sturckow were at the controls, and had a busy test card for what was essentially a dry run for rocket powered flights. They expanded the speed and load envelope, put the vehicle into the feathered re-entry configuration and then increased the weight and shifted the centre of gravity for landing. But most excitingly, it was the first time we flew with all the spaceship's principle propulsion components on-board and live. That meant she took off with her forward pressurant tank loaded with helium, and her centrally positioned Main Oxidiser Tank fully charged with nitrous oxide. The only component missing was the CTN (a new acronym for you – Case-Nozzle-Throat – or the rocket motor 'cartridge'), so 1000lb of water was loaded into a ballast tank at the rear fuselage to simulate its weight and positioning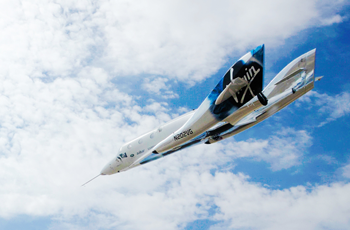 This flight is a major milestone in itself as we move towards rocket powered test flight, but was also an opportunity to rehearse safety system scenarios. As you know, one of many advantages of SpaceShipTwo's elegant design is that we can cut short a flight at any stage if needed and return safely to the runway. Our incremental approach to flight test means we can rehearse those scenarios while we expand the flight envelope, and today we effectively simulated the process we would follow if we decided not to fire the rocket motor or needed to shut it down early. In that scenario, the nitrous oxide would need to be released to lighten the landing weight, and spaceship has 'dump valves' to do as much. To ensure that system performed nominally, it was tested today at 40,000 feet while spaceship was still mated to VMS Eve, and once successfully complete VSS Unity was released.
The pilots then moved through the test card and performed an approach-to-stall test before raising Unity's tail-booms into the feathered re-entry position. Once the feather returned to the normal glide configuration, the pilots used the descent to execute the remaining test points, including a high-g pull-up maneuver and bank-to-bank rolls. Unlike the previous glide test, the water ballast in the rear tank was not jettisoned, meaning the spaceship's performance was tested in a different configuration with a heavier landing weight and a center-of-gravity towards the back of the vehicle.
So it was a busy day! There is a lot of data to examine, but we have made another important step towards powered test flight. We're not there yet, and the team will now move into another period of extensive ground based activity, the outputs of which will be tested and confirmed in the next glide flight. In the meantime, please join us in congratulating the team and of course VSS Unity and VMS Eve!
About Virgin Galactic
Virgin Galactic, owned by Sir Richard Branson's Virgin Group and aabar Investments PJS, is on track to be the world's first commercial spaceline. The new spaceship VSS Unity) and carrier craft ( VMS Eve) have both been developed for Virgin Galactic by Mojave-based Scaled Composites. The Spaceship Company, a new aerospace production company founded by Virgin Galactic and Scaled Composites, is building the fleet of vehicles for Virgin Galactic. Founded by Burt Rutan, Scaled developed SpaceShipOne, which in 2004 claimed the $10m Ansari X Prize as the world's first privately developed manned spacecraft. Virgin Galactic's new vehicles share much of the same basic design, but are being built to carry six customers, or the equivalent scientific research payload, on sub-orbital space flights, allowing an out-of-the-seat, zero-gravity experience and offering astounding views of the planet from the black sky of space for tourist astronauts and a unique microgravity platform for researchers. The VSS Unity and VMS Eve test flight program is well under way, leading to Virgin Galactic commercial operations, which are based at Spaceport America in New Mexico.
VMS Eve with VSS Unity

For More Information Please Contact:
CRAIG CURRAN , ASA
Galactic Experiences By DePrez, DePrez Travel Bureau, Inc.
585-442-8900 X224