3rd Powered Test Flight of SpaceShipTwo Successful
VIRGIN GALACTIC REACHES NEW HEIGHTS IN THIRD SUPERSONIC TEST FLIGHT
MOJAVE, Calif. - January 10, 2014 - Today, Virgin Galactic, the world's first commercial spaceline, which is owned by Sir Richard Branson'sVirgin Group andAbu Dhabi's aabar Investments PJS, successfully completed the third rocket-powered supersonic flight of its passenger carrying reusable space vehicle, SpaceShipTwo (SS2). In command on the flight deck of SS2 for the first time under rocket power was Virgin Galactic's Chief Pilot Dave Mackay. Mackay, along with Scaled Composites' (Scaled) Test Pilot Mark Stucky, tested the spaceship's Reaction Control System (RCS) and the newly installed thermal protection coating on the vehicle's tail booms. All of the test objectives were successfully completed.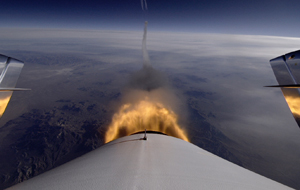 Today's flight departed Mojave Air and Space Port at 7:22 a.m. PST with the first stage consisting of the WhiteKnightTwo (WK2) carrier aircraft lifting SS2 to an altitude around 46,000 ft. At the controls of WK2 were Virgin Galactic Pilot Mike Masucci and Scaled Test Pilot Mike Alsbury. On release, SS2's rocket motor was ignited, powering the spaceship to a planned altitude of 71,000 ft. – SS2's highest altitude to date – and a maximum speed of Mach 1.4. SS2's unique feather re-entry system was also tested during today's flight.
Two important SS2 systems, the RCS and thermal protection coating, were tested during today's flight in preparation for upcoming full space flights. The spaceship's RCS will allow its pilots to maneuver the vehicle in space, permitting an optimal viewing experience for those on board and aiding the positioning process for spacecraft re-entry. The new reflective protection coating on SS2's inner tail boom surfaces is being evaluated to help maintain vehicle skin temperatures while the rocket motor is firing.
SS2's propulsion system has been developed by Sierra Nevada Corp and is the world's largest operational hybrid rocket motor. Although today's flight saw it burn for a planned 20 seconds, the system has been successfully tested in ground firings to demonstrate performance characteristics and burn time sufficient to take the spaceship and its private astronauts to space.
Commenting on the successful test flight, Sir Richard Branson said: "I couldn't be happier to start the New Year with all the pieces visibly in place for the start of full space flights. 2014 will be the year when we will finally put our beautiful spaceship in her natural environment of space. Today, we had our own Chief Pilot flying another flawless supersonic flight and proving the various systems required to take us safely to space, as well as providing the very best experience while we're up there."
This flight was the third opportunity to see a supersonic, rocket-powered test of the Virgin Galactic system after dozens of successful subsonic test flights. "Today's flight was another resounding success," said Virgin Galactic CEO George Whitesides. "We focused on gathering more transonic and supersonic data, and our chief pilot, Dave, handled the vehicle beautifully. With each flight test, we are progressively closer to our target of starting commercial service in 2014."
For Mackay, the flight was a "dream come true." "I have watched SS2 evolve over the years into an incredible vehicle that is going to open up space to more people than ever before," he said. "To be behind the controls and fly it as the rocket ignited is something I will never forget. She flew brilliantly. All the tests went really well and generated vital data that will be used to further fine-tune our operations."
A strong local link exists between Rochester and the Virgin Galactic project. Craig Curran, of Galactic Experiences by DePrez is one of just 40 Accredited Space Agents in the Americas authorized by Virgin Galactic to sell seats aboard SpaceShipTwo. Several local individuals have already secured seats to be among the first non-military humans to achieve spaceflight.
About Galactic Experiences by DePrez
Galactic Experiences by DePrez is a member of the DePrez Group Of Travel Companies, which is the largest independent travel management firm in central and western NY. Founded in 1929, the group provides extensive and diverse travel services, including cruise sales by Just Cruises, Inc. a top 50 cruise-only agency in N.A., meeting and conventions planning to fortune 100 companies and large associations, corporate travel management, and luxury travel leisure sales through Whitaker & DePrez Travel Partners LLC.
About Virgin Galactic
Virgin Galactic, owned by Sir Richard Branson's Virgin Group and aabar Investments PJS, is on track to be the world's first commercial spaceline. To date, the company has accepted more than $80 million in deposits from approximately 680 individuals, which is 20% more than the total number of people who have ever gone to space. The new spaceship (SpaceShipTwo, VSS Enterprise) and carrier craft (WhiteKnightTwo, VMS Eve) have both been developed for Virgin Galactic's vehicle fleet by Mojave-based Scaled Composites. Founded by Burt Rutan, Scaled developed SpaceShipOne, which in 2004 claimed the $10 million Ansari X Prize as the world's first privately developed manned spacecraft. Virgin Galactic's new vehicles, which will be manufactured by The Spaceship Company in Mojave, Calif., share much of the same basic design, but are being built to carry six customers, or the equivalent scientific research payload, on suborbital space flights. The vehicles will allow an out-of-the-seat, zero-gravity experience with astounding views of the planet from the black sky of space for tourist astronauts and a unique microgravity platform for researchers. The VSS Enterprise and VMS Eve test flight program is well under way, leading to Virgin Galactic commercial operations, which will be based at Spaceport America in New Mexico.
About aabar Investments PJS
Headquartered in Abu Dhabi, United Arab Emirates, aabar Investments PJS (aabar) invests in various sectors including infrastructure, aviation, real estate, automotive, commodities, energy and financial services. International Petroleum Investment Company (IPIC) acquired a stake in aabar in 2008 and has progressively increased its stake to over 95% since then. Following IPIC's initial investment, aabar has made numerous investments including stakes in Falcon Private Bank Ltd., UniCredit S.p.A., RHB Bank Malaysia, Galactic Ventures LLC (Virgin Galactic), XOJET Inc., Glencore Xstrata plc., Arabtec Construction PJSC and a portfolio of real estate projects. IPIC, established in 1984 and wholly owned by the Government of the Emirate of Abu Dhabi, invests globally in energy and energy related sectors and undertakes strategic projects on behalf of the Government of the Emirate of Abu Dhabi. IPIC's portfolio currently consists of over 15 investments throughout the hydrocarbon value chain spanning five continents. Specific investments include: Compañía Española de Petróleos (CEPSA), NOVA Chemicals Corporation (NOVA), Borealis AG (Borealis) aabar.
About Scaled Composites
Founded in 1982, Scaled Composites specializes in the design, fabrication and flight testing of prototype aircraft and spacecraft from composite materials. Scaled is a project-oriented company that offers services within a concept-to-completion environment. Our services include conceptual design, aerodynamic and structural analysis and design, tooling, fabrication, structural testing, flight testing and simulation.
For More Information Please Contact:
CRAIG CURRAN , ASA
Galactic Experiences By DePrez, DePrez Travel Bureau, Inc.
585-442-8900 X224