SPACE PERSPECTIVE EXPERIENCE
The Most Breathtaking SIX Hours of your Life!!
[Click Here to View a Video Animation]
[Click Here to View eBROCHURE]
SPACE PERSPECTIVE has reimagined space travel. Instead of rocketing away from the Earth at high velocity, you ascend peacefully with the use of a space balloon where you can look back on earth as you gently assent from Earth for an entirely new perspective. Space Perspective is the first space launch operator to launch from Space Coast Spaceport, showcasing dazzling views. You can reserve your seat now to fly in 2025. 2024 is SOLD OUT!!
Space Perspective will take Explorers on a safe and gentle, yet thrilling, six-hour journey without high G-forces or rocket propulsion. Spaceship Neptune's flight in a pressurized capsule propelled by a high-performance SpaceBalloon™ features a shirtsleeve environment that includes reclining seats, a bespoke culinary and beverage selection, and onboard lavatory facilities. This highly differentiated offering provides 360-degree views of Earth from above 99% of our atmosphere, and the unforgettable spectacle that many astronauts have called life-altering.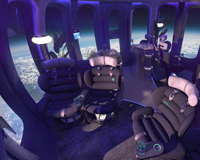 Introducing a new era in luxury travel experiences: Space Perspective reimagines the thrill of space exploration with the world's most radically gentle voyage to space. Space Explorers and travel adventurers looking to upgrade their bucket list can now savor 360-degree views of planet Earth from 20 mi/30 km above in a luxurious six hour trip, inside Spaceship Neptune, propelled by a state-of-the-art spaceballoon the size of a football stadium. Up to eight guests can have the sensational experience from the comfort of plush, reclining seats in a beautifully appointed capsule, complete with a bar and a bathroom, for $125,000 each.
The space curious who would have considered it either too risky, or expensive, now have the opportunity to experience the exhilaration of traveling to space, with a safe and gentle ascent, a world away from rocket-fueled space endeavors. The ground-breaking, pressurized Spaceship Neptune gently lifts passengers 100,000 ft/30,000 m to space to then be immersed, for two hours, in entirely new and breath-taking views of the curvature of Earth down below, in all its beauty and its poignancy.
History-making Space Explorers will leisurely ascend from a launch pad at the iconic Kennedy Space Center in Florida to soar above 99% of Earth's atmosphere in an awe-inspiring, two-hour tour of our planet's biosphere, from inside the comfortable capsule of Spaceship Neptune and its vast viewing windows. Throughout the six-hour journey, all guests will enjoy the best reclining seats in the house to soak in the 450-mile, 360-degree view, an open call on dress, champagne, and a bathroom.
There is minimal preparation for this type of assent and the physical demands for guests are less strenuous than blasting off in a space rocket. In fact, Spaceship Neptune rewrites the engineering playbook: it doesn't use rocket propulsion nor engender g-force acceleration — it's more than brute power.
Jane Poynter and Taber MacCallum, the husband-and-wife team behind Space Perspective, are on a mission to take on the perception of adrenalin-fueled space travel and invite more people than has historically been possible to ride the wave of space history and be transformed by seeing our beautiful Earth in space.
The couple has been responsible for some of the most remarkable breakthroughs in space innovation and exploration in the last 20 years: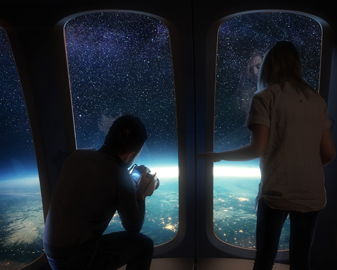 They were founding crew members of Biosphere 2, anartificial,enclosed ecosystem designed to mirror Earth's biosphere to test the viability of maintaining human life in outer space.
Founders of Paragon Space Development Corporation: the Human Life Support Systems Company perfected technologies seen on most human spacecraft including the International Space Station and acted as technical advisors to Elon Musk on human spaceflight before SpaceX was a reality.
They led team StratEx (Stratospheric Exploration) that invented a self-contained spacesuit and recovery program that could allow human exploration of the stratosphere at 100,000 ft and saw Alan Eustace, a senior Google engineer, set the world record for human spaceflight propelled by a spaceballoon at 136,000 ft — breaking previous world records in 2014, and a record which remains unchallenged today.
Most recently, the couple were behind the Silicon Valley-backed stratosphere balloon technology company World View Enterprises with its revolutionary un-crewed Stratollite for communications and remote sensing.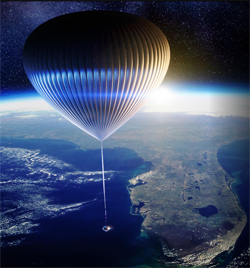 Spaceship Neptune offers hours of constantly changing, dazzling views. Our atmosphere stretches for hundreds of miles into space, Spaceship Neptune flies above 99% of it and the perspective of looking down through atmospheric layers, framed by the thin blue line is - according to most astronauts who have experienced it - profoundly life-changing.
This radical approach to luxury space travel is also mindful of the environment, including zero emission spaceflight. Space Perspective addresses the increased demand for more sustainable travel and experiences for both the affluent and those seeking to invest in a once-in-a-lifetime trip. Each Space Perspective capsule will entertain up to eight guests and be accompanied by a pilot, with a co-pilot on the ground. Space Perspective is currently developing an end-to-end bespoke journey to ensure every moment of every trip is special, personalized, and comfortable.
Jane Poynter and Taber MacCallum, the husband-and-wife team behind Space Perspective, are on a mission to take on the perception of adrenalin-fueled space travel and invite more people than has historically been possible to ride the wave of space history and be transformed by seeing our beautiful Earth in space.
Space Perspective is a human spaceflight company providing unprecedented access to space. It invites more people than ever before possible to experience a thrillingly new perspective of the exhilarating panoramas and scale of Earth in space. Space Perspective is scheduled to begin commercial flights to the edge of space via Spaceship Neptune in late 2024. Explorer benefits include invitations to exclusive events and curated insider tours intended to build community and maximize engagement.
TO REQUEST MORE INFORMATION ON THE SPACE PERSPECTIVE EXPERIENCE
PLEASE CLICK HERE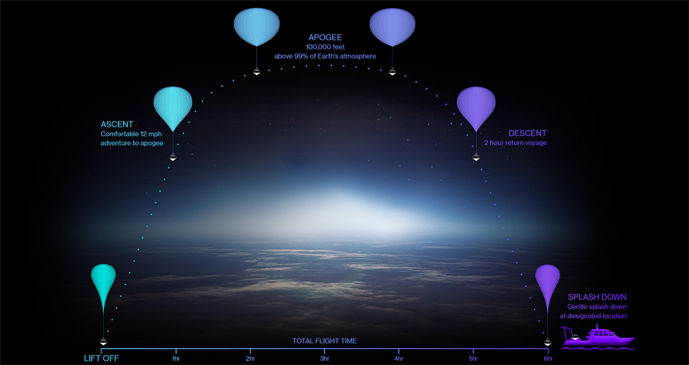 For More Information on this Product Contact:
CRAIG CURRAN, ASA
Galactic Experiences By DePrez
DePrez Travel Bureau, Inc.
585-442-8900 X224