VSS Unity Completes 1st Glide Flight
Decebmer 3, 2016 -Mojave, CA - Although Unity's first 'captive carry' flight in September was a major milestone, today was in some ways even more significant, as she was released from VMS Eve and glided home on her own for the very first time. Pilots Dave Mackay and Mark Stucky were in the cockpit for the flight, and it was an emotional moment for all involved as VSS Unity made a smooth landing on the Mojave runway. The team was particularly delighted that Richard was able join them on the flightline to witness and celebrate the milestone.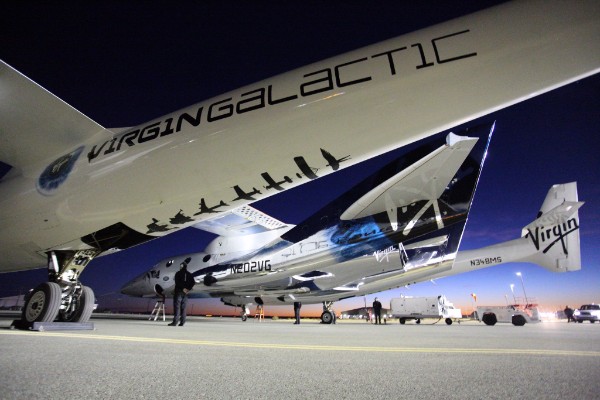 This first glide flight focused on testing the fundamental performance and handling qualities of VSS Unity. To this end, the vehicle was ballast-free, so at its lightest weight and restricted to a 'speed limit'. Once the team has analysed the data and confirmed the test objectives have been met, we will move towards the next test flight in the glide flight sequence.
Each flight will have a set of objectives, and will cumulatively allow Virgin Galactic to test and prove the performance of the vehicle in a variety of conditions, flight path angles and airspeeds. This means each glide flight will test a different scenario, which is important to prove out as VSS Unity will, of course, glide home to a runway landing after each space flight once in commercial service. Each flight is also an opportunity to test the spaceship's emergency abort modes; should a spaceflight have to be curtailed prematurely for any reason, the vehicle will ultimately perform a glide back to the runway.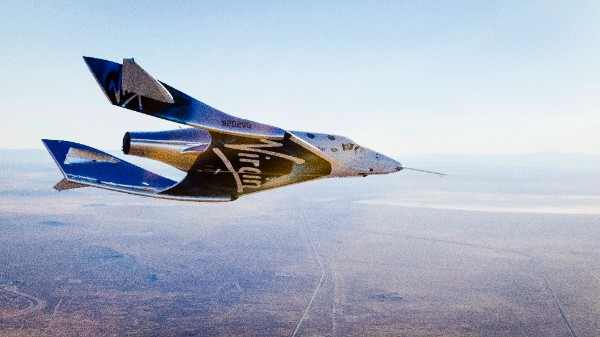 About Galactic Experiences by DePrez
Galactic Experiences by DePrez is a member of the DePrez Group Of Travel Companies, which is the largest independent travel management firm in central and western NY. Founded in 1929, the group provides extensive and diverse travel services, including cruise sales by Just Cruises, Inc. a top 50 cruise-only agency in N.A., meeting and conventions planning to fortune 100 companies and large associations, corporate travel management, and luxury travel leisure sales through Whitaker & DePrez Travel Partners LLC.
About Virgin Galactic
Virgin Galactic, owned by Sir Richard Branson's Virgin Group and aabar Investments PJS, is on track to be the world's first commercial spaceline. To date, the company has accepted nearly $80 million in deposits from approximately 630 individuals, which is approximately 10% more than the total number of people who have ever gone to space. The new spaceship (VSS Unity) and carrier craft (WhiteKnightTwo, VMS Eve) have both been developed for Virgin Galactic's vehicle fleet by Mojave-based Scaled Composites. Founded by Burt Rutan, Scaled developed SpaceShipOne, which in 2004 claimed the $10 million Ansari X Prize as the world's first privately developed manned spacecraft. Virgin Galactic's new vehicles, which will be manufactured by The Spaceship Company in Mojave, Calif., share much of the same basic design, but are being built to carry six customers, or the equivalent scientific research payload, on suborbital space flights. The vehicles will allow an out-of-the-seat, zero-gravity experience with astounding views of the planet from the black sky of space for tourist astronauts and a unique microgravity platform for researchers. The VSS UNity and VMS Eve test flight program is well under way, leading to Virgin Galactic commercial operations, which will be based at Spaceport America in New Mexico.
For More Information Please Contact:
CRAIG CURRAN , ASA
Galactic Experiences By DePrez, DePrez Travel Bureau, Inc.
585-442-8900 X224