VSS Enterprise Completes Two Glide Flights within 24 Hours
June 15, 2011 - More exciting news from the Mojave Desert this morning with confirmation that SpaceShipTwo, VSS Enterprise, had completed two successful glide flights within 24 hours.
This was the quickest turnaround time yet between VSS Enterprise solo flights, reinforcing the unique and transformational ability of Virgin Galactic's spaceflight system to undertake daily flights to space.
Both flights saw early morning take-offs for VSS Enterprise, in mated configuration with the WhiteKnightTwo carrier aircraft, followed by high altitude releases at around 52,000ft and glides back to smooth touch-downs on the Mojave Air and Spaceport runway. Both flights were part of a continuing program of envelope expansion, specifically focussing on speed and susceptibility for flutter.
This morning's flight was the 12th solo flight for SpaceShipTwo since its inaugural glide flight on 10th October 2010, including two successful "feather" flights which demonstrated the spaceship's unique re-entry configuration.
The quick turnaround between the latest two flights demonstrates an important factor in Virgin Galactic's planned commercial operations, which will see daily flights of both carrier aircraft and spaceship to accommodate the fast growing demand from both space tourists and researchers.
Congratulations to the whole team at Scaled Composites and particularly to SpaceShipTwo test pilots Pete Siebold, Doug Shane, Mark Stucky and Clint Nichols!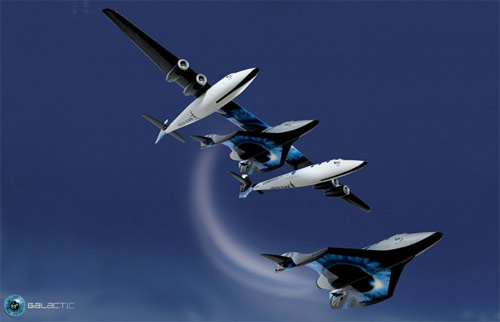 For More Information Please Contact:
CRAIG CURRAN , ASA
Galactic Experiences By DePrez, DePrez Travel Bureau, Inc.
585-442-8900 X224