The Future of Space Travel
A New Generation of Space Travel Entrepreneurs Begins!!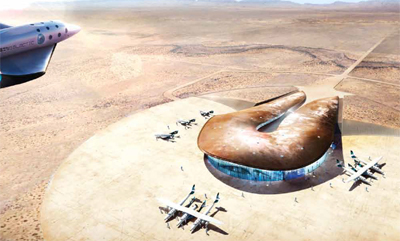 Soon there will be more space travelers than ever. Several companies are developing spacecraft that will take anyone into space who wants to go — provided they can pay for the ride. "I'm convinced in the next few years we're going to see multiple companies flying several times a week," says George Nield, head of the Office of Commercial Space Transportation at the Federal Aviation Administration. "And that will mean hundreds of launches every year, with thousands of people getting to experience space travel firsthand."
Several companies are offering trips that will give people a few minutes of weightlessness at the edge of space. Other companies are planning to make spacecraft that can take NASA astronauts to the International Space Station. Learn about Space Hotels

Returning to the Moon
Spurred by a $30 million purse put up by Google, 29 teams have signed up for a competition to become the first private venture to land on the Moon. The contest deadline is December 2015, several teams think they have a good shot to win — and to take an early lead in a race to take commercial advantage of space travel. At the very least, a flotilla of unmanned spacecraft could be headed Moonward within the next few years.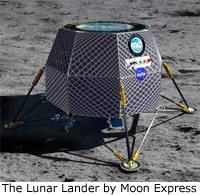 One Silicon Valley venture, Moon Express, is positioning itself as a future FedEx for Moon deliveries: if you have something to send there, the company would like to take it. Moon Express shows off the flight capabilities of its lunar lander, based on technology it licensed from NASA.
"In the near future, the Moon Express lunar lander will be mining the Moon for precious resources that we need here on Earth," Moon Express promised.
Another competitor, Astrobotic Technology, intends to sell berths on its lunar lander to space agencies and scientific institutions, to send up their experiments. The company, a spinoff from Carnegie Mellon University, is building a large craft — much bigger than Moon Express's — capable of carrying 240 pounds of payload and hopes to be ready to launch in December 2013.
While NASA had wanted to send astronauts back to the Moon, its program was canceled last year, a victim of budget cuts and shifting priorities. But it has awarded $500,000 each to Moon Express, Astrobotic and a third competitor, Rocket City Space Pioneers, the first installments of up to $30 million that it will contribute to the Lunar X Prize efforts.
Like the aviation prizes that jump-started airplane technology a century ago, the Google Lunar X Prize is meant to rally technologists and entrepreneurs. It is administered by the X Prize Foundation, which handed out $10 million in 2004 to the first private team to build a spacecraft that could carry people 60 miles above the Earth's surface. (The winner, SpaceShipOne, was built by the aerospace designer Burt Rutan with backing from Paul Allen, the software magnate.)

For the Moon competition, Google put up $30 million. Of that, $20 million will go to the first team to land a spacecraft on the Moon, explore 500 meters and send back high-definition video and photos. The second team will win $5 million, and the remaining $5 million will pay for bonus prizes like surviving a frigid lunar night or traveling more than 5,000 meters on the surface.




























Mars Exploration
Since our first close-up picture of Mars in 1965, spacecraft voyages to the Red Planet have revealed a world strangely familiar, yet different enough to challenge our perceptions of what makes a planet work. Every time we feel close to understanding Mars, new discoveries send us straight back to the drawing board to revise existing theories.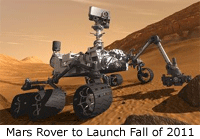 To discover the possibilities for life on Mars (past, present or our own in the future) the Mars Program has developed an exploration strategy known as "Follow the Water." Following the water begins with an understanding of the current environment on Mars. We want to explore observed features like dry riverbeds, ice in the polar caps and rock types that only form when water is present. We want to look for hot springs, hydrothermal vents or subsurface water reserves. We want to understand if ancient Mars once held a vast ocean in the northern hemisphere as some scientists believe and how Mars may have transitioned from a more watery environment to the dry and dusty climate it has today.
So far, the exploration of Mars has occurred in three stages:
Flybys

- The first missions simply flew by Mars, taking as many pictures as possible on their way past

Orbiters

- As our knowledge and technologies grew, we began putting spacecraft in orbit around Mars for longer term studies.

Landers & Rovers

- Then, with more capabilities over the years, we began to land on the surface. Today, we're not only landing in one place, but we can be mobile on the surface of Mars.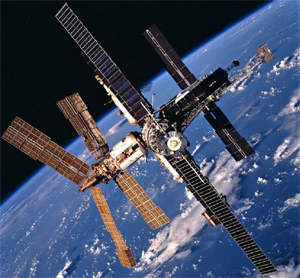 Technology development makes continued missions possible. Each Mars mission is part of a continuing chain of innovation: each relies on past missions for new technologies and contributes its own innovations to future missions. This chain allows us to continue to push the boundaries of what is currently possible in space travel, while relying on proven technologies as well.
Eventually, humans will most likely journey to Mars. Getting astronauts to the Martian surface and returning them safely to Earth, however, is an extremely difficult engineering challenge. A thorough understanding of the Martian environment is critical to the safe operation of equipment and to human health, so the Mars Exploration Program will begin to look at these challenges in the coming decade.





























September 13, 2019 - NASA conducting a two-week ground test in September 2019 on Bigelow Aerospace's B330 habitat at NASA's headquarters. Eight NASA astronauts have participated in the trial so far, and four were on the scene Thursday (Sept. 12) to assess various aspects of the big, expandable module.
The tests, which involve two B330 test units, are part of NASA's Next Space Technologies for Exploration Partnerships (NextSTEP) program. In 2016, NextSTEP awarded funding to Bigelow and five other companies to develop ground prototypes for habitats that could help NASA astronauts journey to the moon, Mars and other deep-space destinations.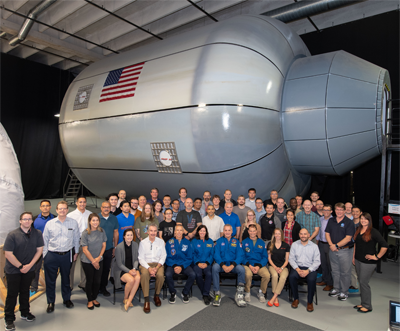 Like Bigelow's other habitats, the B330 is expandable; see, for example, the much smaller and more bare-bones Bigelow Expandable Activity Module, which has been attached to the ISS on a test run since 2016. At launch, the B330 would be compressed enough to fit inside a 16.5-foot-wide (5 m) payload fairing. After it reaches space, the module would then be inflated using onboard gas canisters.
Bigelow is the last of the awardees to go through this round of ground tests, NASA officials said. But that doesn't mean a decision is imminent.
"The purpose of this test program is not to pick a winner or a loser but to find what we like and what we don't like," former NASA astronaut Mike Gernhardt, the principal investigator for the NextSTEP habitat-testing program, said during a media event here Thursday. "And that will all be melded into requirements going forward for the final flight design," added Gernhardt, who flew four space shuttle missions during his astronaut career.
For More Information Please Contact:
CRAIG CURRAN , ASA
Galactic Experiences By DePrez, DePrez Travel Bureau, Inc.
585-442-8900 X224