Space Hotels – The Reality is Here!!
Commercial Space Travel Brings the Need for Space Hotels
Brian Binnie, and Mike Melvill, the pilots of Scaled Composites SpaceShipOne were awarded the title of Commercial Astronaut by the United States Federal Aviation Administration. This is a new classification that distinguishes the holder as an astronaut, but is not associated with the United States NASA space program. More Info
With this, the space race for commercial interest was on and space tourism was born. One step in space tourism development is to provide a destination built for such travelers: A space hotel. Welcome to the future!

Several plans have been proposed for using a space station as a hotel. One company ready to make that happen is Orion Span. Orion Span is aiming to deploy the first ever space hotel has said it will launch in late 2021, with the first customers welcomed aboard in 2022.
Developed by US startup Orion Span, the Aurora Station will be a modular space habitat capable of accommodating four guests and two crew members. For an outlay of $9.5m, would-be space tourists will get to spend 12 days in Low Earth Orbit (LEO). As well as taking in the views from 200 miles above the planet, guests will have access to a virtual reality experience on a holodeck, as well as high speed internet access and the opportunity to grow their own food in zero gravity.
According to Orion Span, the lengthy training regimen traditionally used to prepare people for space travel will be reduced to just three months, with the first part of the certification programme taking place online. Additional training will be carried out at the company's facility in Houston, Texas, with final certification taking place on board the space hotel.
"Upon launch, Aurora Station goes into service immediately, bringing travellers into space quicker and at a lower price point than ever seen before, while still providing an unforgettable experience," said Frank Bunger, founder and CEO of Orion Span.
"Orion Span has additionally taken what was historically a 24-month training regimen to prepare travellers to visit a space station and streamlined it to three months, at a fraction of the cost. Our goal is to make space accessible to all, by continuing to drive greater value at lower cost."
Bunger claims the modular nature of the station will provide versatility and opportunities for other activities beyond tourism, including in-space manufacturing and zero gravity research. Aurora will also be available to space agencies for charter, with customers only paying for the time they use
"Our architecture is such that we can easily add capacity, enabling us to grow with market demand like a city growing skyward on Earth," said Bunger. "We will later sell dedicated modules as the world's first condominiums in space. Future Aurora owners can live in, visit, or sublease their space condo."
FOR MORE INFORMATION ON ORION SPAN SEE:
Orion Span - Space Hotels
Orion Span's Aurora Station
12-Day Adventure on Aurora Station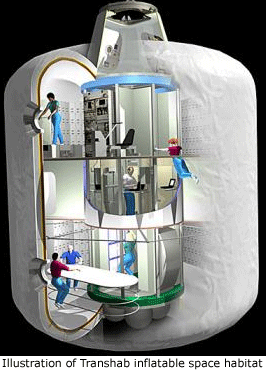 Another player in the space race is Bigelow Aerospace. American motel tycoon Robert Bigelow has acquired the designs for inflatable space habitats from the Transhab program abandoned by NASA.
His company, Bigelow Aerospace, has already launched two inflatable habitat modules. The first, named Genesis I, was launched 12 July 2006. The second test module, Genesis II, was launched 28 June 2007. Both Genesis habitats remain in orbit and continue to function perfectly. Bigelow's newest modules have 3 times the volume of the average module at the International Space Station.
These new modules can be leased to other countries (seven countries have signed on so far), to private companies or individuals. Robert Bigelow says that the habitats can be used in space, on the moon (possibly as a resort), on Mars and beyond.
READ MORE ON BIGELOW AEROSPACE
Not to be outdone, other companies have also expressed interest in constructing "space hotels" too.
For example, Excalibur Almaz plans to modernize and launch its Soviet-era Almaz space stations, which will feature the largest windows ever on spacecraft. Virgin's Richard Branson has expressed his hope for the construction of a space hotel within his lifetime. He expects that beginning a space tourism program will cost $100 million. Hilton International announced the Space Islands Project, a plan to connect together used space shuttle fuel tanks, each the diameter of a Boeing 747 aircraft. A separate organization, Space Island Group announced their distinct Space Island Project (note the singular "Island"), and plans on having 20,000 people on their "space island" by 2020, with the number of people doubling for each decade. and last but not least, British Airways has expressed interest in the venture. If and when Space Hotels develop, it would initially cost a passenger $60,000, with prices lowering over time.
For More Information Please Contact:
CRAIG CURRAN , ASA
Galactic Experiences By DePrez, DePrez Travel Bureau, Inc.
585-442-8900 X224